Cal State Fullerton Loses an American Historian
February 25, 2003 :: No.150b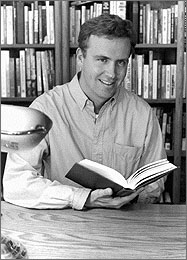 Clark Davis
Clark Davis, associate professor of history and vice chair of the History Department at Cal State Fullerton, suffered a fatal heart attack Feb. 4. He was 36.
Davis joined the university faculty in 2000 and that same year his book Company Men: White – Collar Life and Corporate Cultures in Los Angeles, 1892-1941, was published by Johns Hopkins Press.
The Pasadena resident also served as co-director of the History Research Group at the Huntington Library in Pasadena, where he collapsed Feb. 4.
His loss is keenly felt by his Cal State Fullerton colleagues. "For me, Clark was the promise of a future without limit for the Department of History," said William Haddad, chair and professor of history. "I looked at him and could see that the department would be in wonderful hands for the next 30 years."
Davis was active as a conference organizer, editor and reviewer, as well as in the research activities of the university's Center for Oral and Public History.
Prior to joining Cal State Fullerton, Davis taught at La Sierra University, where he was the recipient of that institution's highest award for teaching.
He was a specialist in American history, with a focus on California and the Southwest, and on race, gender and ethnicity in the United States. In 2002, he co-edited with David Igler of the University of Utah a scholarly collection of biographical essays, The Human Tradition in California, published by Scholarly Resources.
"He believed in 'closing the circle,' as he called it, by continually modifying his teaching on the basis of what he learned, by analyzing student responses and achievement," noted Thomas Klammer, dean of the College of Humanities and Social Sciences. "His students, both in history classes and in the University Honors Program rewarded him with their highest praise."
Added Haddad: "He quickly established himself as one of the best instructors in the department and one of its ablest scholars. Despite working tirelessly on behalf of students and on his research agenda, he was eager to serve and to help in any way he could to advance the careers of his junior colleagues."
Clark earned both his master's degree and doctorate from USC. As an undergraduate at Loma Linda University, he majored in both history and political science.
He is survived by his wife, Cheryl Koos, assistant professor of history at Cal State Los Angeles; brother, Mark; and parents, M. Jerry and Sylvia Davis.
The funeral service was held Feb. 11, at the Sea Coast Grace of Cypress Church, 5100 Cerritos Blvd., Cypress.
Cal State Fullerton's History Department and College of Humanities and Social Sciences will hold a memorial service at 1:30 p.m. Friday, Feb. 28, in Room 130 of the Pollack Library. Details will be available at 657-278-3474.
« back to People