Animation Program Alum's Work Featured in #1 Box Office Film
Rafael Zentil Helps Tell the Story of "Horton Hears a Who"
March 25, 2008
by Gail Matsunaga
Behind the success of "Horton Hears a Who" — which captured the No. 1 weekend box office spot during its opening earlier this month — are the unseen talents of such animators as Titan alumnus Rafael Zentil (B.F.A. art '98).
A story artist at Blue Sky Studios in White Plains, N.Y., Zentil worked mainly on Who-ville's mayor — voiced by Steve Carell — and his son, Jojo.
As a story artist, Zentil takes a script and visually interprets it — the characters, as well as camera angles and moves. "A comic book-like description of what happens on the page," he explains.
In "Horton," the "paintings" that Zentil drew on his storyboards were used in the movie.

Zentil's illustrations are used to storyboard scenes for the film.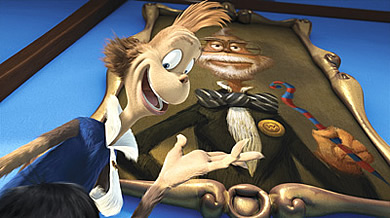 As a student, Zentil was among the first wave of artists in the budding animation program developed by Don Lagerberg and Dana Lamb, professors of art. The experience, he says, was "very valuable, and some of the exercises we did then are what I do in my job now.
"The program definitely inspired me; there were a lot of good people there and a lot of good students. Don Lagerberg taught me a lot about drawing — the nuts and bolts. Dana Lamb prepared us for what it's like in the real world — how to behave and good communications."
"Rafael was an outstanding artist from day one," says Lagerberg. "He is very imaginative, with great expressive range and always went beyond the assignment in conceptual reach and effort."
Says Lamb about Zentil's inclusion in the animation program's early days: "He had two key qualities that qualified him to band together with our small group of determined and slightly demented animation geeks — a passion for drawing and a great sense of humor.
"They would huddle for hours in our first animation lab, located in a tiny office the size of a prison cell. The lack of windows made shooting animation easy, but the long hours and lack of air circulation made them a cranky bunch," Lamb says. "The title of 'Cell Block' for our current labs continues to this day in recognition of their suffering."
Zentil's talent also was honed in New Orleans Square at Disneyland, where Zentil drew pastel portraits of guests. At Klasky Csupo, he was a character designer and storyboard artist on "Rugrats," "Rocket Power" and "As Told By Ginger." His previous Blue Sky projects include "Robots" and "Ice Age: The Meltdown," a sample of which can be seen in the current "Opening Credits" exhibit at Grand Central Art Center.