Crowning Moment in 10-Week Visit
Snow Visits Great Wall
December 3, 2007
By Nancy Snow
Nancy Snow, associate professor of communications, is a visiting senior scholar and professor in Beijing, China, through November. She is teaching a graduate course in public diplomacy at Tsinghua University's School of Journalism and Communication, as well as working on joint research projects with Chinese faculty. While overseas, she will be sharing her experiences.
Lesson #10: When in China, climb a wall.
Not just any wall. Of course, I mean the Great Wall.
In the midst of a terrible head cold I came down with my last full week in China, I hired a car and driver to take me and my friend Gina Wang (Wang Lu) to the Mutianyu Great Wall. My friend Gina can accomplish anything. You could say she has good guanxi. When I asked her to arrange a car for us, she made a call in two minutes and we had booked our car!
Not even sniffles and coughs could take away my enthusiasm for the Great Wall.
We drove around a corner and there it was in the distance. I audibly gasped. It was everything I ever thought it might be and more. For one, you could never conquer the Great Wall. Chairman Mao is alleged to have said that he who makes it to the top of the Great Wall is a superhero and a great man. My Ph.D. student friend Robinson Xiang said Mao believed that you haven't really been to China if you haven't been to the Great Wall.
I could not imagine making it to the end of the Great Wall section we visited. We hiked for two hours and barely made it a quarter of the way up the long snake of bricks and mortar. I was able to blame my slow gait on my cold, but in reality this was really quite a rigorous exercise.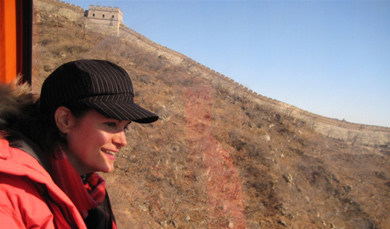 The steps were treacherous. Steps are uneven, as might be expected from a 1,000-year-old man-made structure. You are really on your own, too. I stopped to hear the thump, thump of my heart beating so fast. I looked up and saw the birds flying overhead making their caw, caw sounds. I closed my eyes and imagined people who climbed this wall all those centuries before me.
Mutianyu Great Wall is 45 miles northeast of Beijing. President Clinton visited here in June 1998. This part of the Great Wall is very steep. There is one way up, by either a cheap or more expensive Japanese-made cable car. Gina and I elected to take the more expensive (50 yuan per rider) cable car, since I wasn't too happy with this mode of transportation as it was! The Great Wall was almost ours alone, with a few small groups of mostly Americans along the way.
The Great Wall was a highlight of my China trip. To stand on such history and to know how many people gave up their lives for this unusual edifice is mind-boggling.
Mutianyi's Great Wall was built in the sixth century and rebuilt in the 14th century. President Clinton said of his visit in 1998: "So if we had a couple of hours, we could walk 10 kilometers, and we'd hit the steepest incline, and we'd all be in very good shape when we finished. Or we'd be finished," he said. "It was a good workout. It was great.
"I believe this wall now is a symbol that China shows to the rest of the world, not a wall to keep people out," he said. "It sort of unifies the country."
Well said then and even more pertinent today.
The Associated Press reported on June 28, 1998: "They walked perhaps 400 yards, steep ones, Clinton holding his wife's hand on one side, his daughter's on the other. Ahead, the Great Wall stretched up even steeper mountainsides into the hazy distance."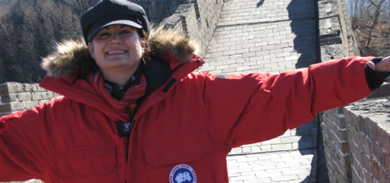 I'm happy to report that I made it much farther than Chelsea, Hill and Bill. I loved the whole experience. After such an awe-inspiring trek on the wall, it was a bit jarring on the way down from the cable car back to the car we rented. All along the way, Chinese peddlers called out "hey lady" or "one dollar" for an assortment of cheap tourist goods like chopsticks and hats that said "Great Wall." The popular T-shirt was "I climbed the Great Wall." What they needed was "I visited the Great Wall and all I got was this lousy T-shirt."
Nevertheless, I cannot blame people trying to make a living. China's people and its historic places have been so memorable and lovely, there is little to lessen my joy at discovering a country I have come to love.
Nancy Snow's email address is nsnow@fullerton.edu.