Kennny Loggins Headlines
Front & Center 2004

From Dateline (December 9, 2003)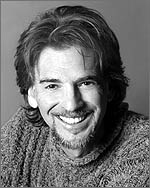 Kenny Loggins
From his early years with Jim Messina and "Your Mama Don't Dance," his movie soundtrack hits "Footloose" and "Danger Zone," to his newest album, "It's About Time," Kenny Loggins has remained one of music's most successful songwriters and performers. The Grammy Award-winner will bring his enduring showmanship to the stage as headliner of this year's Front & Center gala Saturday, Feb. 7, at the Arrowhead Pond of Anaheim.
Among the highlights of the evening, which will benefit student scholarships and programs, will be the presentation of the Orange County Titan Award to the Orange County Teachers Federal Credit Union (OCTFCU). Founded in 1934, OCTFCU has been an integral part of the county's heritage, and with more than 260,000 members, is the country's eighth-largest credit union and largest educational credit union. University Advisory Board member Rudy Hanley, OCTFCU president and CEO, will accept the award on behalf of the organization.
Titan alumna Vikki Vargas, Orange County bureau chief for NBC4-TV, will emcee the event.
For additional information and ticket prices, call University Advancement at 278-3480.