Celebrating African American Heritage Month at Cal State Fullerton
February 06, 2003 :: No. 146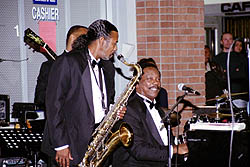 Stan Breckenridge, right, lecturer in Afro-Ethnic Studies, directs the Afro-Ethnic Studies Community Ensemble

Download image
---
Cal State Fullerton's observance of African American Heritage Month is being celebrated in music, art, dance, speeches and poetry readings.
"This year, Cal State Fullerton's students, faculty and staff members and alumni have collaborated to bring to campus a month filled with activities aimed at building and strengthening our campus community," said Andi Fejeran Sims, coordinator of the university's Multicultural Leadership Center.
On exhibit through Feb. 28 is "Stoic Series," by Shirley Harris, a CSUF alumna and an Irvine-based artist, who uses oil and paper media. Her works can be seen in Room 112 of the Humanities-Social Sciences Building.
Students and others will be exhibiting their talents Saturday, Feb. 8, during "FUSION," an open-microphone talent night featuring poets and musicians on stage from 8-11 in the Pub of the Titan Student Union (TSU).
An Afro-ethnic spring mixer is set for 6-8:30 p.m. Tuesday, Feb. 11, in the TSU's Portola Pavilion.
Ernie Bridges, Afro-ethnic studies lecturer, will speak on "African Americans in Business" at noon Wednesday, Feb. 12, in the TSU's Alvarado Room.
Also planned is a Hair & Wellness Fair from 5-7 p.m. Tuesday, Feb. 18, in the TSU's Gabrielino Room. "Pursuing a Graduate Degree" will be the focus of a discussion by Gerald Byrant, coordinator of the Ronald McNair Program, at 4 p.m. Wednesday, Feb. 19, in the TSU's Alvarado Room.
The Afro-Ethnic Studies Community Ensemble will perform under the direction of Stan L. Breckenridge, lecturer in Afro-ethnic studies, at noon Thursday, Feb. 20, in the Quad. That same evening, Domino & Cards Night is set for 7-10 in the TSU's Gilman Room.
"FUSION" returns for an encore from 8-11 p.m. Saturday, Feb. 22, in the Pub. The evening's featured performers are members of the Nina Nimba dance troupe performing African dance from 7-9 p.m. in the TSU's Portola Pavilion.
Jilani Bakari (also known as Darryl Martin) of Enrollment Management/University Outreach will address "Robert's Rules of Order" from noon-1 p.m. in the TSU's Alvarado Room.
"Celebrating the heritage and diversity of different cultures enriches the campus and provides our students with the opportunity to enhance their multicultural leadership and raise awareness of global issues," Sims noted. "By providing cultural and educational experiences through music, poetry, dance, workshops, drama and art, we are facilitating the development of values, respect, awareness, diversity, understanding and citizenship, all of which are integral components necessary for our students to make meaningful contributions to society," she added.
The month's events are coordinated by the African American Faculty/Staff Association, Afro-Ethnic Student Association, Afro-Ethnic Studies Community Ensemble, the Afro-Ethnic Studies Department, Alliance for the Preservation of African Consciousness, College of Humanities and Social Sciences, Furnishing Information and Relaying Encouragement, Multicultural Leadership Center, Sistertalk and the Women of Color Resource centers, as well as the Association for InterCultural Awareness.
For more information, contact Andi Fejeran Sims of the Multicultural Leadership Center at 657-278-7366 or by e-mail at multiculturalcenter@fullerton.edu.

Media Contact: Susan Katsaros of Public Affairs at 657-278-4854 or skatsaros@fullerton.edu