'Killer Algae' Study Leads to Outstanding Thesis Award
May 26, 2004 :: No. 265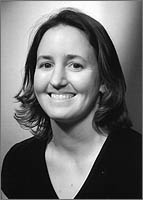 Susan Frisch
Susan Frisch, a Cal State Fullerton alumnus whose master's thesis on the potential introduction of "killer algae" into Southern California waters has been used to inform and influence public policy, has been selected to receive the university's 2004 Giles T. Brown Outstanding Thesis Award.
Frisch, who earned her master's degree in biology in 2003, will be recognized Friday at the university's annual Honors Convocation. The award is named for an emeritus professor of history and carries a $1,000 cash prize.
Her thesis focuses on Caulerpa taxifolia, seaweed that has blighted the Mediterranean waters of southern Europe and has caused considerable damage. Although it is not toxic to humans or other organisms, its ability to grow rapidly makes this plant a threat to the survival of native seaweed and grasses that provide food for fish, invertebrates and seabirds.
"Susan's thesis has generated enormous interest, not only from the scientific community, but from agency managers wishing to develop policies to reduce the likelihood of seaweed introductions in coastal waters of California and the United States," noted Steven N. Murray, professor of biological science and Frisch's mentor.
"Because of the significance of Susan's findings to state and federal resource manager, Susan was invited to present her thesis work at three different conferences devoted to Caulerpa species, including a major international conference that convened researchers from Australia, Europe, Latin America and the United States.
"By providing evidence of the availability of other potentially invasive Caulerpa species in the aquarium trade, Susan's thesis was requested and used to support passage of state legislation that bans the importation and sale of eight other species of Caulerpa beside C. taxifolia in California," said Murray.
Because of her research and knowledge of invasive seaweeds, local fish and game wardens bring her confiscated seaweeds to confirm whether they are among those on the banned list, according to Murray.
Frisch, a resident of Redondo Beach, has been working as an educational assistant in the Southern California Eco Research Program at Cal State Fullerton. She plans to pursue a career in marine biology.
Media Contacts:
Steven N. Murray, professor of biological science,
at 657-278-7291 or smurray@fullerton.edu
Dave Reid, Public Affairs, at 657-278-4855 or dreid@fullerton.edu