Future Doctor Wins Top Award for
Health Professions Community Service
May 24, 2004 :: No. 259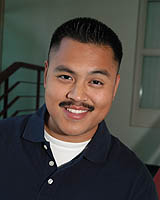 Algele Cid Sumulong
Algele Cid Sumulong, a Cal State Fullerton graduating biological science major who founded a program in which students of the university visit and help terminally ill patients, is the 2004 winner of the Kenneth L. Goodhue-McWilliams Award for Outstanding Community Service in the Health Professions.
The award is named for an emeritus professor of zoology and carries a $1,000 cash prize.
Sumulong, who will graduate magna cum laude, will receive the award at the university's Honors Convocation May 28 and will be recognized May 29 at commencement ceremonies for the College of Natural Sciences and Mathematics.
He currently is serving as president of the CSUF Volunteer & Service Center Student Organization and vice president of service for the campus chapter of the National Society of Collegiate Scholars.
The 23-year-old Yorba Linda resident started his academic career at Fullerton as an electrical engineering major, but switched to biological science studies that could lead him to medical school, as the result of being treated for an illness by a compassionate doctor who happened to be his uncle.
Sumulong founded and directs Project GRACE, in which volunteer CSUF students visit and help terminally ill patients through the Orange County Heartland Hospice. He also has tutored extensively at the College of Natural Sciences and Mathematics Opportunity Center, and has served as a volunteer lab instructor and tour guide for groups of elementary school students interested in science.
Sumulong, who will attend UCI College of Medicine in the fall, will travel to the Philippines this summer for medical missionary work.
He said that the campus Health Professions Committee, which assists students seeking entry to medical and other health professions schools, "is the greatest thing that ever happened to me," and praised the professors and staff members of the university who have helped him with his dream of
attending medical school.
Sumulong is one of the hundreds of students over the past two decades who have benefited from Cal State Fullerton's Health Professions Advising Office, which provides a unique support and mentoring program for students seeking entry to medical and other health professions schools.
The program's Health Professions Committee — composed of university faculty members in the sciences, social sciences, humanities and administration — provides mentoring, career counseling, advising, letters of recommendation and guidance on volunteer activities and internships.
For the past 25 years, an average of 84 percent of students recommended by the committee have been admitted to a medical or other health professions school for graduate training.
Media Contacts:
David Drath, professor of biology and chair of the Health Professions Committee, at 657-278-3980 or ddrath@fullerton.edu
Christopher Meyer, associate professor of chemistry and biochemistry, at 657-278-4173 or cmeyer@fullerton.edu
Dave Reid, Public Affairs, at 657-278-4855 or dreid@fullerton.edu