Returning Students Seeking Career Changes
Win Miles McCarthy Health Professions Award
May 24, 2004 :: No. 258
A former Broadway actress seeking a career as a physician involved in the drama of a hospital emergency room and a registered nurse, who wants to make medical decisions for patients as a doctor and caregiver, are winners of the 2004 Cal State Fullerton Miles D. McCarthy Health Professions Award.
Named for a founding CSUF professor, the award is presented to outstanding health professions students who demonstrate high academic achievement, integrity and a commitment to serve humanity. This year, Heidi Meyer of Fullerton and Lynell Newmarch of Monrovia are co-recipients.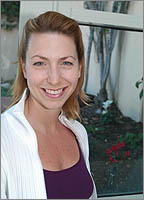 Heidi Meyer
Meyer, who earned a bachelor's degree in theater from Northwestern University, appeared in regional musical theater productions in the East for seven years, including a 2 1/2-year stint on Broadway in "Miss Saigon," where she played the role of "Ellen" for more than 100 performances and also sang in the chorus. She entered Cal State Fullerton in 2002 to pursue another dream of hers—to become a physician.
She enrolled in postbaccalaureate science courses that would prepare her for medical school, earning a 4.0 grade point average, and participated in a wide variety of volunteer activities.
Meyer has served both as a coordinator and vice president of the Student Health Professions Association, and has taken leading roles in blood drives, bone marrow donor programs and bringing speakers to campus.
She has been a volunteer with LIGA: Flying Doctors of Mercy, which provides free medical clinics in Mexico, has volunteered in several hospitals, including the emergency room at Western Medical Center in Santa Ana, and has been an after-school tutor in Orange.
The award-winner conducted glycogen metabolism research projects at Cal State Fullerton, and has co-authored national and international research presentations. She will attend UC San Diego Medical School this fall.
Meyer was last year's winner of the Kenneth L. Goodhue-McWilliams Health Professions Award for outstanding community service and is the first to win both honors.
Newmarch, a native of South Africa who grew up in Port Elizabeth and received her nurse's training at the University of Port Elizabeth, came to the United States in 1997 as a traveling nurse, eventually serving in the cardiac care unit at UCLA Medical Center.
Learning about the Health Professions Advising Office at Cal State Fullerton through the Internet, Newmarch enrolled at CSUF in 2001 as a postbaccalaureate student to complete science courses that would help her qualify for medical school. After years of working as a caregiver in the nursing profession, Newmarch had decided to become a doctor, in order to make medical decisions for a patient's care, which she could not do as a nurse.
As the current president of the Student Health Professions Association, her duties include arranging for speakers, organizing blood drives, promoting volunteer activities and staging forums for discussion of medical ethics. She is an active member of the Flying Samaritans and LIGA: Flying Doctors of Mercy.
Newmarch has participated in artificial heart transplant research at UCLA and also volunteered as a tutor in an adult literacy program. She has earned a 3.9 grade point average in her postbaccalaureate science courses and has been accepted at Albany Medical College. Newmarch plans to specialize in internal medicine.
The two honorees will receive their awards at the university's annual Honors Convocation May 28. They also received special recognition at the May 14 awards dinner of the College of Natural Sciences and Mathematics. Each will receive a $1,000 cash award.
Meyer, 33, and Newmarch, 30, are part of a growing trend of individuals across the nation who have decided to change careers in early or midlife to become doctors, dentists, veterinarians, pharmacists or other health professionals.
They are among hundreds of students over the past two decades who have benefited from Cal State Fullerton's Health Professions Advising Office, which provides a unique support and mentoring program for students seeking entry to medical and other health professions schools.
The program's Health Professions Committee — composed of university faculty members in the sciences, social sciences, humanities and administration — provides mentoring, career counseling, advising, letters of recommendation, and guidance on volunteer activities and internships.
For the past 25 years, an average of 84 percent of all students recommended by the committee have been admitted to a medical or other health professions school for graduate training.
Media Contacts:
Christopher Meyer, associate professor of chemistry and biochemistry, at 657-278-4173 or cmeyer@fullerton.edu
Dave Reid, Public Affairs, at 657-278-4855 or dreid@fullerton.edu