Four Chosen for Top Awards
at Commencement
May 20, 2004 :: No. 254
Four graduating Cal State Fullerton students will be honored this month with President's Associates awards in recognition of their scholastic excellence, as well as dedication to the university and community.
This year's recipients are Martina Albers of Corona, Kim Ann Guth of Fullerton, M. Alex Lopez of Santa Ana and Sula Murad Safar of San Dimas. They will be recognized May 28 at the university's annual Honors Convocation, which is held on the eve of commencement.
Each honoree will receive a $1,000 cash award, sponsored by the President's Associates university support group, and a commemorative plaque.
Albers, a President's Scholar, is receiving the President's Associates Scholastic Achievement Award for academic achievement. A member of the University Honors Society, she maintained a 3.97 GPA with a major in public administration and a minor in business administration.
She arrived in America from the Czech Republic not speaking a word of English. Her strong work ethic and willingness to apply herself helped her secure valedictorian honors at Santiago High School in Corona.
"The world opened up to me since I first came to Cal State Fullerton," she said. "With so many new experiences, Cal State Fullerton was there by my side. The professors, staff and fellow students helped guide me through, showing me the pathway to success. Although I'm not there yet, Fullerton has paved the way for a successful future."
She has served as a community service officer for the President's Scholars, and helped to organize teams for a variety of community events, including the CHOC Walk to benefit Children's Hospital of Orange County, the Ronald McDonald House Thanksgiving Meal, the Boys and Girls Club bowling night and multiple sclerosis walkathon.
Currently, she works as a transportation analyst and hopes to serve as a transportation planner in the future. "I aspire to improve the transportation infrastructures of the former community countries in Eastern Europe, while applying an approach of capitalism," she noted. Upon graduation, she will continue to work at RK Engineering Inc. prior to entering the MBA program at UC Irvine in the fall of 2005.
Albers is a member of the Phi Eta Sigma Honor Society and Golden Key International Honor Society. She has served on the board of directors of the YWCA of North Orange County for two years and earned a Student Leadership Institute certificate.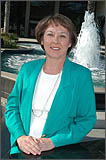 Kim Ann Guth
Guth is the recipient of the President's Associates Outstanding Graduate Student Award for her academic performance, as well as her contributions to the community and the campus. Working toward her master of science in nursing with an emphasis in nursing administration, she has maintained a GPA of 3.98 and is active in several campus organizations. She served on the Nursing Department's Graduate Curriculum Committee and was founding president of the CSUF Nursing Honor Society. Under Guth's leadership, the Nursing Honor Society is preparing to become chartered as a chapter of Sigma Theta Tau International Nursing Honor Society. In addition, Guth has represented the Nursing Department at various events, including "Welcome to Cal State Fullerton Day," career expos and job fairs. Guth's community involvement includes serving on the Fullerton School District Board of Trustees (1996-2000).
A re-entry student, she graduated cum laude from Cal State Fullerton with a bachelor's degree in nursing in 2003. Upon receiving her master's degree, she plans to apply to a doctoral program to continue her studies for a career in nursing education.
"Once I finished raising my family, I wanted to step back into my career, and pursuing my degree seemed like a logical step," said Guth, a registered nurse. "I've been very pleased with the support I've received at Cal State Fullerton and look forward to helping others achieve their dream of becoming nurses."
The mother of four works as a prenatal educator and lactation consultant at St. Joseph Hospital in Orange.
Lopez is being honored with the President's Associates University Service Award for his contributions to the campus and community.
For the past two years, Lopez has served as one of two students on the California State University Board of Trustees. Representing 407,000 students from the 23 CSU campuses, he helped oversee the management of $3.3 billion in property, facilities and investments by the CSU and its campuses. He attended his last board meeting this week and cast the lone dissenting vote against raising student fees for the coming academic year.
As a business administration major, he established the Latino Business Student Association while still a freshman and developed the Hispanic Networking Breakfast. After serving as president of this group, he joined the Associated Students Board of Directors, as a member of the Pi Kappa Phi fraternity.
Lopez was twice elected president of the Associated Students Inc. During his terms of office, he established the Titan Tusk Force — a program to encourage freshmen and sophomores to make a connection with the university— and an alumni mentor program. He also oversaw several other ASI initiatives, ranging from enhancement of specific facilities to developing a marketing plan. This year, Lopez also served as co-chair of Greek Week.
"What was wonderful about my experience at Cal State Fullerton is that so many people were willing to help me," Lopez said. "The administration and faculty always seemed to go out of their way to provide advice and counsel. I really appreciated that. Their support gave me the confidence to pursue new paths."
Upon graduation, Lopez will continue to work for Allergan Inc. as a territory manager and hopes to continue a path where he can be of service to the community.
Safar, who was named a President's Scholar upon entrance to the university as a freshman, is receiving the President's Associates University Service Award, which is presented to a student who demonstrates service to the campus and community.
Safar arrived in America from Lebanon in 1985 as a civil war tore apart the country. Seeing the suffering of her native people instilled in her a desire to become a physician.
She is a biological science major with a minor in law, politics and society. Not only did she earn a 3.89 GPA as a student in the University Honors Program, she also served in a variety of volunteer capacities. She has been active in the President's Scholars, has volunteered for CHOC, Ronald McDonald House, YWCA and the multiple sclerosis walkathon, among others.
For 14 years, she has tutored children in special education classes, and she also volunteers in the emergency department at Pomona Valley Hospital and Medical Center. Because Safar is fluent in Arabic, she often translates for the hospital's Middle Eastern patients. Safar also is an active member of St. John Maron Church in Anaheim.
"In my family, going to Cal State Fullerton has become a tradition," she said. "My brother and sister both went to Cal State Fullerton, so I was quite familiar with the campus and pleased with the faculty and educations they received. In fact, I chose this school over several other campuses because the professors are very engaged with the students. You get a lot of individual attention, especially in the honors classes. I loved my classes, my classmates, and my experiences at Cal State Fullerton. This has been the best five years of my life."
Safar has been accepted to Western College of Osteopathic Medicine in Pomona and will begin classes there in August.
Media Contact:
Valerie Orleans, Public Affairs at 657-278-4540
or vorleans@fullerton.edu