Big West Scholar Athletes of the Year Named
from Dateline (February 13, 2003)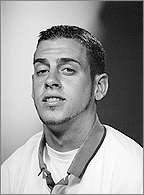 Tim Donnelly
Tim Donnelly of the men's soccer team and Kelly Mathiasen of the women's gymnastics team were selected Cal State Fuller-ton's Male and Female Big West Conference Scholar-Athletes for 2002.
Donnelly, a team captain in 2002, scored two goals for an 8-9-3 Titan team that upset No. 1-ranked Indiana. During the spring and fall semesters of 2002, Donnelly – a health promotions and kinesiology major – carried a 4.0 grade-point average. He plans on attending graduate school in the fall and eventually earn a doctorate.
"Tim is most deserving of this accolade," said soccer coach Al Mistri. "He was not recruited and walked on to eventually earn a scholarship, a starting role and, as the captain of our 2002 team, the respect of all his peers. He did all this while maintaining a 4.0 grade-point average. In my opinion, he embodies the very best of what Cal State Fullerton athletics stands for."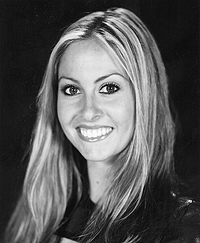 Kelly Mathiasen
Mathiasen is a senior who placed 13th in the all-around at last year's NCAA championships, with a ninth-place finish on balance beam. She set or tied her career high in every event during the season, including a score of 39.425 in the all-around at UCLA. The 2001 Big West Conference Gymnast of the Year is majoring in kinesiology with a minor in health science. Mathiasen will graduate in June 2004 and then enter the teaching credential program.
"Kelly was one of our most talented athletes and best students as a freshman, but refused to rest on her laurels," said gymnastics coach Julie Knight. "She has continued to learn new skills, on every event, and improve her GPA. Kelly was named MVP of her team two years in a row (2001 and 2002) and is on course to earn the award again this season. She is a wonderful example for her teammates and most deserving of this honor."
Donnelly and Mathiasen will be honored along with scholar-athletes from the other Big West institutions at a March 13 breakfast in Anaheim.