Study of Treatments for Premature Babies
Wins Statewide Research Award
May 12, 2003 :: No. 231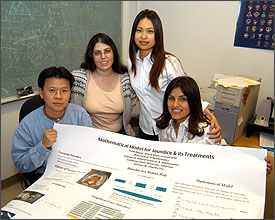 Charles Lee, assistant professor of mathematics, and students, from left, Shazia Khan, Tram Hoang and Lorena Ortiz discuss their collaboration on a mathematical modeling project dealing with the treatment of neonatal jaundice. The project was inspired by Lee's son Preston, who was born one month premature with the condition.
---
Tram Hoang, a graduating senior mathematics major at Cal State Fullerton, won first place in the physical and mathematical sciences category at the 17th annual California State University Student Research Competition. Her winning entry: a mathematical modeling project involving the treatment of premature babies who have neonatal jaundice.
The competition held May 2-3 at CSU Stanislaus attracted student researchers from throughout the 23-campus system. The award includes a $400 cash prize.
The Garden Grove resident collaborated with graduate student Lorena Ortiz of South Gate and Shazia Khan of Ontario — now a tutor at Chaffey College — on the project inspired by Preston Lee, the young son of Charles Lee, assistant professor of mathematics and the students' mentor at Cal State Fullerton. Preston was born one month premature with neonatal jaundice, a condition that turns the skin yellow and affects two-thirds of all preemies.
Their research provides a fundamental tool to investigate the effectiveness of individual treatments and other aspects of dealing with the condition, noted Lee, a Chino Hills resident whose son is now a healthy 4-year-old.
Media Contacts:
Charles Lee, assistant professor of mathematics, at 657-278-2726 or hunglee@fullerton.edu
Dave Reid, Public Affairs, at 657-278-4855 or dreid@fullerton.edu