Cal State Fullerton Jazz Musicians
Receive Scholarships from 'Friends'
December 19, 2003 :: No. 122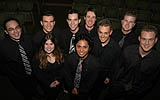 Cal State Fullerton Jazz Ensemble I musicians shared $7,000 in scholarships presented in December by the Friends of Jazz, a Fullerton-based organization that supports jazz education and student musicians. Recipients are (back row, from left) trumpet players Carlos Villa, Brian Mantz and Tim Gill; Nick Schaadt, bass; Dan Crain, tenor sax; Ryan Pryor, piano; Sean Macauley, drums; front row, Melissa Halse, lead alto sax; and Bryon Panopio, trumpet.

Download Image
Nine talented members of Cal State Fullerton's Jazz Ensemble I group have been awarded scholarships ranging from $600 to $1,000 each by the Friends of Jazz Inc., a nonprofit Fullerton-based group that supports jazz education and young musicians.
The CSUF jazz ensembles directed by Chuck Tumlinson, associate professor of music, represent some of the finest college musicians on the West Coast, and are involved in more than 30 performances and clinics throughout each year. The bands perform on campus and at venues such as Steamer's Café in Fullerton and the Brea Jazz Festival. Last year they performed in the "Battle of the College Bands" in Hollywood, in connection with a festival tribute to Woody Herman.
The scholarship awards were presented by Bill Klinghoffer, president of the Friends of Jazz, at a recent campus concert featuring renowned trombonist Andy Martin as guest artist.
Scholarship recipients and their cities of residence are:
• Brian Mantz, Fullerton (trumpet)
• Carlos Villa, Fullerton (trumpet)
• Nick Schaadt, Fullerton (bass)
• Bryon Panopio Fullerton (trumpet)
• Tim Gill, Mission Viejo (trumpet)
• Dan Crain, Anaheim (jazz tenor sax)
• Melissa Halse, Long Beach (lead alto sax)
• Ryan Pryor, Upland (piano)
• Sean Macauley, La Verne (drums)
In addition to the $1,000 Friends of Jazz scholarship, Pryor was awarded a $500 scholarship from the Alex and Mary Batinich Trust, which was presented by Nick Batinich, chief financial officer of the Friends of Jazz.
Media Contacts:
• Chuck Tumlinson, Jazz Ensemble I director, at 657-278-5523 or ctumlinson@fullerton.edu.
• Dave Reid, Public Affairs, at 657-278-4855 or dreid@fullerton.edu.