MESA Chapter Team
Wins JPL Invention Challenge Competition
December 11, 2003 :: No. 119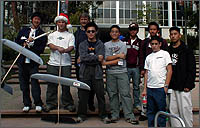 Representing the Cal State Fullerton MESA chapter, a Costa Mesa High School team led by teacher Steve Nelson (third from left) won the JPL Invention Challenge competition. Winning team members are (from left) Ted Lee, Joe Powers, Nelson, Khoa Mai, Peter Pham, Canh Mai, Hoa Duong, Raffi Kidikian and Josh Paik.
Photo by Vonna Hammerschmitt

Download image
A team of students from Costa Mesa High School representing the Cal State Fullerton Mathematics, Engineering, Science Achievement (MESA) program flew to victory in the Jet Propulsion Laboratory 2003 Invention Challenge competition held Dec. 5 at JPL in Pasadena.
The Costa Mesa students not only were the winners of the student division in the Wright Turn Glider Contest, but also beat teams of JPL technicians in the employee division.
Their mission was to design and build a glider that when launched from the officially supplied launcher, flies through the air, makes a right-hand turn and lands on a target 40 feet away.
Cal State Fullerton and USC were chosen by JPL as the two Southern California regional competition sites. The Costa Mesa team qualified for the finals at JPL by winning the competition hosted Nov. 15 by Fullerton's MESA chapter.
The Costa Mesa team was headed by teacher and MESA adviser Steve Nelson. Team members are: Joe Powers, Ted Lee, Hoa Duong, Khoa Mai, Josh Paik, Canh Mai, Peter Pham and Raffi Kidikian.
"I am one proud teacher," said Nelson. "Our students finished ahead of all 20 student teams and all 11 teams of professional engineers from NASA. On Dec. 17, we will try to fly our glider on a straight flight for 120 feet, the distance the Wright brothers flew 100 years ago. It will be a fitting tribute by our students."
Fullerton's MESA chapter is one of the most active college and university chapters of the statewide program designed to help educationally disadvantaged students to excel in math, engineering and science. More than 90 MESA centers throughout California provide services to more than 30,000 students from elementary through university levels. A total of 85 percent of MESA high school seniors go on to attend college.
Two years ago, the statewide MESA program received one of the $100,000 Innovations in Government Awards from the Institute for Government Innovation at the John F. Kennedy School of Government at Harvard University. "MESA was nominated for the honor because of the program's excellence in outreach in preparation of students to pursue advanced studies and careers in the fields of science and engineering," said Vonna Hammerschmitt, CSUF MESA director.
The campus MESA chapter is one of several outreach programs of the university's College of Engineering and Computer Science. "We are pleased to be a longtime participant in this program to encourage students to become engineers and scientists," said Raman Unnikrishnan, dean of ECS.
Media Contacts:
Vonna Hammerschmitt, Cal State Fullerton MESA director, at 657-278-3195 or vhammereschmitt@fullerton.edu

Steve Nelson, Costa Mesa High School, at (714) 424-8700 orsnelson@nmusd.K12.ca.us

Dave Reid, Public Affairs, at 657-278-4855 or dreid@fullerton.edu