Opera Star Rodney Gilfry to Headline Music for Marcy Gala
November 6, 2003 :: No 94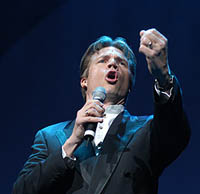 Rodney Gilfry
Fresh from a two-month European engagement, internationally renowned baritone and Titan alumnus Rodney Gilfry will headline a black-tie evening of opera, Broadway and pops favorites during the second annual Music for Marcy gala, "Glamour, Glitz and Gilfry," Saturday, Nov. 22, at the Grove of Anaheim.
Proceeds from the event — presented by the Marcy Arroues Mulville Memorial (MAMM) Foundation — will benefit Cal State Fullerton's new Performing Arts Center, with the goal to name the concert hall stage the Marcy Arroues Mulville Stage.
In addition to Gilfry's performance, the evening will include a reception, silent auction, dinner and presentation of the first Marcy Award to longtime Titan supporter and community leader William J. McGarvey Jr. of Fullerton. The award was established to recognize the person who most emulates Mulville's passion for, and support of, enhancing the quality of life in Orange County. Tickets for the event start at $200 per person and can be reserved by calling event chair Gail Cochran at (714) 879-6563.
During her lifetime, Mulville was credited with founding, supporting and advancing more than 26 nonprofit organizations, starting with Cal State Fullerton, where she was a founder of the Music Associates. She was a key figure in the early years of the Pacific Symphony Orchestra, and more recently, had donated $25,000 to the university's future Performing Arts Center. The MAMM Foundation was created in memory of Mulville in 2001, and selects one organization a year as its primary recipient.
Scheduled for completion in summer 2005, the new Performing Arts Center will be located west of the existing Performing Arts Center building and will feature an 800-seat concert hall, 250-seat thrust-stage theater, 100-seat black box theater, professional-quality dance studios with seating, faculty offices, dressing rooms, green rooms, technical support areas, scene shop, costume and makeup labs, computer-assisted design lab and audio shop.
Media Contacts:

Milly Muzzy, University Advancement, 657-278-7695 or
mmuzzy@fullerton.edu

Gail Matsunaga, Public Affairs, 657-278-4851 or gmatsunaga@fullerton.edu