Extremoganza
June 03, 2003 :: No. 253
The June 7 opening celebration of "Extremoganza," an exhibit of works by Oregon's eccentric artist/performer Extremo the Clown, features Art Car artists and their creations, stilt walkers, fire-eaters and Extremo the Clown.
The exhibit in the Main Gallery offers a never-before-seen painting and installation by Extremo, a Strob-a-rama room and Ultraviolet Spectra-depth Kinetic Hall.
Cal State University Fullerton along with the City of Santa Ana has been in the forefront of a national movement to design and build artist enclaves within cities. As a result, 2nd Street, east of Broadway, in the heart of downtown Santa Ana has undergone a unique metamorphosis transforming it into a distinctive artist village. One of the focal points of the Santa Ana art scene is Cal State Fullerton Grand Central Art Center. Monthly First Saturday openings highlight incredible local and national artists amidst live music and outdoor revelry.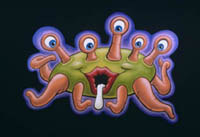 Sp(EYE)der by Extremo
The Extremoganza and Art Car Festival, a free, day-long event,
features 13 bands, street performers, two DJ's, custom cars and a
multi-media show with Los Pochos (brought to you by POCHARTE). The day
begins on the Grand Central Art Center Promenade at 10 a.m. and continues
outside until 10 p.m.
Appearing on the Promenade are Heathans, Algemeen, Mae Shi, Central City Transmission (Kapow Records latest addition), The Distraction, The
Intelligista (a vocal and instrumental quartet from Huntington Beach that
takes its cue from equal parts soul, rhythm & blues, and pop), Kill Baby
Kill, A Witches Distance, This is Revenge, Joe and the Chickenheads, Alleged Gunmen (named one of "10 bands to watch in 2002" by OC Weekly. This Long Beach band is "an explosive blend of traditional rock 'n roll, soul, and hardcore punk...their live performances explode with a sound and energy that is often compared to the aesthetics of the Clash and the raw intensity of
early Who shows") and, finally, The Rolling Blackouts (from San Pedro, this
four-piece band has been winning over new fans with their brand of
unashamed, straight-ahead rock 'n roll... "they hit you from the very first
note and don't stop").
Following the close of the outdoor festival, visitors will move inside
to the basement of the nearby Santora Building. There, DJs Sonic Dredd and
Almighty Nectar will be spinning before and after a performance by Dios.
Straight out of Hawthorne, this band has taken the Beach Boys musical
template and created their own unique sound.
The Grand Central Art Center Promenade is located in front of the Grand
Central Art Center in the Santa Ana Artists Village at 125 N. Broadway.
Images:
For images, contact Andrea Harris at Grand Central Art Center at (714) 567- 7233
Media Contacts:
Marilyn Moore, Cal State Fullerton Art Gallery at
657-278-7750
Andrea Harris, Grand Central Art Center at (714) 567-7233
Roger Novales (714) 968-8726
Mike Rocco (714) 540-1142
Dennie Iluy (310) 493-2050