Candide
April 8, 2003 :: No. 192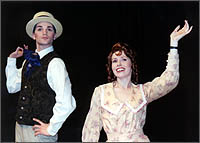 Candide members, Matt Lara (Maxmillian)
and Sarah Lartigue (Cunegonda)



Download image
---
Featuring a legendary score by Leonard Bernstein (of "West Side Story" and "On The Town" fame), this rarely offered version of CANDIDE, was written in two acts for the Scottish Opera in Glasgow. Unlike other versions, the opera house edition remains exceptionally true to Voltaire's original book with its French blend of wicked humor and biting satire.
Director Dean Hess has sought to make Voltaire's story even more meaningful to modern audiences by changing its original 18th century setting to the 20th century. "Voltaire's piece has distinct parallels with today," Hess explains. "I've evolved the times and locations but found modern counterparts: Voltaire's wealthy community of Westphalia becomes the Ruhr Valley (home of the Industrial Revolution), the Spanish Inquisition becomes the purging of 35,000 Masons in Portugal, and the slave trade in Buenos Aires has its parallel in Surinam. Audiences will see Voltaire's story is timeless."
Hess continues, "I am especially excited about our production as it offers the best of the best to our audiences—a tremendously creative blend of the College of the Arts' top performers and singers from both the Department of Theatre and Dance and the Department of Music."
Bringing another dimension of life to Voltaire's book is the music of CANDIDE. "Composer Leonard Bernstein's music has always been about one thing: exploring the differences among people and pleading for tolerance to allow us to live in peace and kindness," explains John Mauceri, who worked with Bernstein. "From the entrance into Venice to the end of the play the musical numbers flow with almost no dialogue through the glorious finale."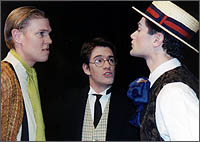 Left to right: Benjamin Plaché (Candide), Jonathan D. Schoenherz (Pangloss), and Matt Lara (Maxmillian)



Download image
---
Orchestra director Kimo Furumoto shares his thoughts on conducting the 50-plus-member cast in the score stating, "If West Side Story is considered one of Bernstein's most moving works then CANDIDE surely must be considered his wittiest work. It is chock full of catchy tunes that bring the original novel by Voltaire to life with satirical humor. Bernstein employs the gamut of his compositional style from grand opera to American popular music in this brilliant score. In doing so he has placed extreme demands on the singer/actors who play the various roles in the work. As we follow the hapless youth Candide in his quest for 'the best of all possible worlds,' we ultimately realize that we must each find out what our unique contribution to humanity is, to 'make our garden grow.'"
The cast includes: Christopher Manus (April 25, 27 May 1, 3) and Jonathan D. Schoenherz (April 26 May 2,4) as Voltaire/Pangloss/ Cacambo/Martin; Benjamin Plaché (April 25, 27 May 1,3) and Brad Standley (April 26 May 2, 4) as Candide; Matt Lara (April 25, 27 May 1, 3) and Daniel Canaday (April 26 May 2, 4) as Maximilian; Kellee Schildknecht (April 25, 27 May 1, 3) and Sarah Lartigue (April 26 May 2, 4) as Cunegonde; Andrea Dodson (April 25, 27 May 1, 3) and Jessica Mason (April 26, May 2, 4) as Paquette; Lilly Mettler (April 25, 27 May 1, 3) and Renée Tatum (April 26 May 2, 4) as Old Lady; Richard E. Hall as Governor/Vanderdendur; and Samuel Nuñez as Captain.
More are: Bryan Balderman as Sultan Achmed; Jon-Enée Merriex as Hermann Augustus; Dashaun Young as Charles Edward; Scott Ziemann as Stanislaus; Jason Halliday as Tsar Ivan; Mike Adkins as Ragotsi; Devon Glenn as Crook; Kim Walthall as Cosmetic Merchant; Mike Adkins as Doctor; Dashaun Young as Bear-keeper; Matt Frazier as Alchemist; Jon-Enée Merriex as Junkman; and Jonathan Infante as Grand Inquisitor. In addition, the production also features a large ensemble of singers and dancers.
Designers include: Ann Sheffield, sets; Bruce Goodrich, costumes; Deb Lockwood, lighting; Joy Shannon, make-up; and Nathan Jones, sound.
This production is suggested for mature audiences, as theatergoers of today may find it unashamedly "politically incorrect" with race, ethnicity sexuality, politics and religion ridiculed to the extreme. As is the point of satire, it is these extremes that Voltaire questions and seeks to correct in his original.

Media Contacts:
Elizabeth Champion, College of the Arts at 657-278-2434
Dr. Jim Volz, Professor, Department of Theatre and Dance at 657-278-3538