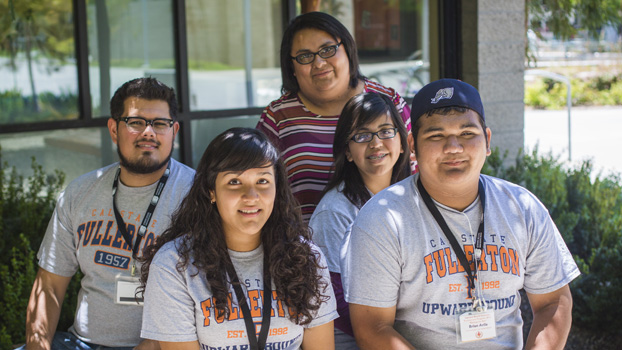 Caption: Upward Bound students living and attending courses on campus this summer include: from left, Leo Cota (B.A. ethnic studies '04), director; incoming freshman Edith Mendoza of Century High School; Eileen Jimenez, academic adviser; and Saddleback High School students Raeleen Perez and Brian Avila. Photo: Matt Gush Download
Summer Opportunities
High School Students at CSUF to Experience University LIfe
July 5, 2012 :: No. 3
This week, 30 Santa Ana high school students, including nine incoming freshmen, have moved into Cal State Fullerton student housing to experience what their future could be like when they succeed in completing high school and enrolling in college.
The students — from Century, Saddleback, Santa Ana and Valley high schools — are participating in CSUF's Upward Bound, a federally funded program designed to assist eligible high school students with preparation for admission to a university and success in earning a college degree.
Upward Bound's Summer Enrichment Program is a six-week sojourn into higher education.
For the past two weeks, they have been college commuters, taking a bus to campus daily to attend courses in English literature and composition, mathematics ranging from algebra through calculus, and learning Japanese.
Some of the students also are part of UB Ambassadors, a program made available to upperclassmen. If accepted into the ambassador part of the program, participants learn about resume writing, proper work attire and other skills, in order to work on a university campus and gain quality work experience.
For the next four weeks, the Upward Bound participants will continue to attend the English, math and Japanese courses, plus another class in leadership, and receive tutoring assistance. While living on campus, they also attend engineering and theatre arts courses offered in collaboration with the university's College of the Arts and College of Engineering and Computer Science.
"The Summer Enrichment Program offers students the opportunity to experience college life, learning to balance a challenging course load with the new experience of living in the residence halls," said Eileen Jimenez, academic adviser for the CSUF program and an alumna of UC Irvine's Upward Bound Program. "But it's only a part of what Upward Bound does to help students, many of whom will be the first in their families to attend a college or university."
To be eligible for the program, students must be U.S. citizens or permanent residents; at least 13 years of age and graduated from the 8th grade; hold a minimum of 2.5 GPA as potential first-generation college students; meet federal income eligibility requirements and attend a high school in the Santa Ana Unified School District.
Throughout the year, the 20-year-old program offers exposure to diverse educational environments, collaborative learning experiences and intensive instruction in such core academic courses as math and English. Upward Bound students also:
attend weekly after-school tutoring sessions offered at their high schools;
attend twice monthly Saturday Academy sessions that offer supplemental instruction in English, science and math; workshops on study skills and time management; and additional tutoring, if needed;
work with an academic adviser who guides them on the appropriate courses to enter college, preparation for ACT or SAT tests and applications for scholarships and financial aid; and
explore the various systems of higher education — community colleges, the California State University system, University of California system and private colleges — through college tours.
"The tours enable our students to research and explore the type of college they would like to attend," said Jimenez, who attended UCLA to earn a degree in French/Francophone studies in literature and culture after graduating from Anaheim High School. "Everything we offer them is geared to opening their minds to the idea that they can graduate high school, attend college and earn a college degree."
"We give them the grounding, the backing and support to do so," said Leo Cota, Upward Bound director on campus. Cota also is an Upward Bound alumnus who graduated from Saddleback High School. He earned a bachelor's degree in ethnic studies from Cal State Fullerton in 2004, then a master's degree in Latin American and Caribbean studies from New York University.
Objectives and Achievements
The program is tasked with a number of objectives and in each case, the program has exceeded its goals, Cota said, listing the categories:
Academic Improvement on Standardized Tests
Based on the scores from the California Exit High School Exam, "we have a 100 percent proficiency rate in both math and English," Cota said.
Retention of Program Participants
"We have a 98 percent retention rate of students who advanced into the 2011-12 academic year," said Cota. "Out of 70 participants, one dropped out because the family moved to Arizona, where she was accepted into an Upward Bound program."
"This year, all 23 graduating seniors were admitted to a college of university," Cota said with pride. From the 2009-10 and 2010-11 cohorts, 36 of the 39 graduates enrolled in a postsecondary institution immediately following high school graduation. 
Postsecondary Persistence
"Eighty-three percent of our participants since 2008 have continued past their first year of a college education," Cota noted.
Media Contact:  
Pamela McLaren, 657-278-4852