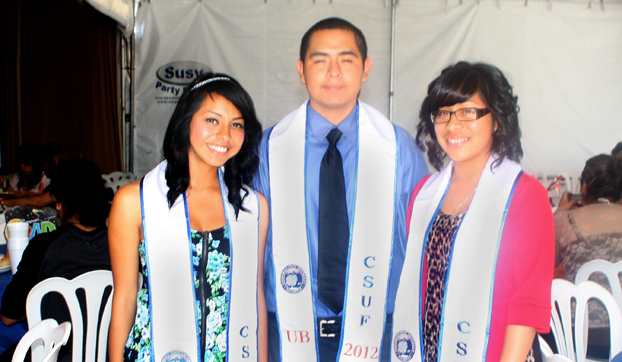 Caption: Upward Bound grads heading off to college include, from left, Irene Duarte of Valley High School, Cristian Salgado of Godinez High School and Janet Fierros of Valley High. Duarte and Fierros will head to Santa Ana College in the fall; Salgado is one of four Upward Bound students who will be attending Cal State Fullerton. 
College Bound
Upward Bound Grads Score 100 Percent in Admission to College
July 3, 2012 :: No. 2
Upward Bound is more than a program name for 100 percent of the students who have been affiliated with the Cal State Fullerton effort for the past four years.
All 23 Santa Ana seniors in the program not only graduated this year from high school, but also gained admission to a college or university to continue their education.
With the backing of Upward Bound, through its encouragement, support and skills-building activities, these students are heading off to Cal State and UC campuses, as well as community colleges in the fall.
Begun in 1992, the federally funded Upward Bound program helps low-income, potential first-generation college students improve their grades and study habits, as well as shape their dreams to obtain a bachelor's degree and more.
"Our program is geared to support high school students in their educational goals and aspirations," said Leo Cota, program director and an Upward Bound alumnus.
This is accomplished through comprehensive services such as after-school tutoring, individualized academic advisement and mentorship, he noted. "Access to institutions of higher learning for our students is very important," he added.
Cota graduated from Saddleback High School, earned his bachelor's degree in ethnic studies from Cal State Fullerton in 2004, then received a master's degree in Latin American and Caribbean studies from New York University. He began working for the CSUF program in 2006 as an academic counselor.
"In my case, after New York, I decided it was important for me to give back to the community where I came from and to a program that assisted me tremendously. Upward Bound, and its staff and other programs like it, encouraged and motivated me to achieve my educational goals. I want to be a part of something that provides high school students from disadvantaged backgrounds the opportunity to fulfill their educational dreams."
Students in the program participate in academic year activities and six-week summer programs beginning as incoming ninth-grade students and continuing through high school. During the school year, participants are offered weekly after-school tutorial sessions plus twice-a-month Saturday Academy programs that offer additional tutoring, supplemental math instruction and workshops on such subjects as study skills and career exploration. They also participate in cultural events and take field trips to university campuses.
The summer program offers college preparation classes for students, who live on campus during the program to experience college life. Participants also work with an academic adviser who guides them in course selection, preparation for ACT or SAT tests and applications for scholarships and financial aid.
The 20-year-old program is funded by the U.S. Department of Education.
Media Contact:
Pamela McLaren, 657-278-4852