CSUF Alumna Awarded NSF Fellowship
Two Biological Science Graduates Also Recognized
July 24, 2012 :: No. 12
Cal State Fullerton Class of 2011 graduate Adrienne (Conant) Dougherty is receiving a $90,000 National Science Foundation Graduate Fellowship, awarded in a national competition.
In addition, two of her fellow CSUF alumni received "honorable mention" citations in the same competition.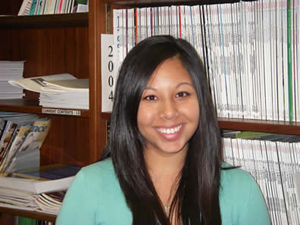 Caption: Adrienne Dougherty as a Minority Access to Research Careers Scholar at CSUF in 2011. 
The NSF Graduate Research Fellowship Program recognizes and supports outstanding graduate students in NSF-supported science, technology, engineering and mathematics disciplines who are pursuing research-based master's and doctoral degrees at accredited U.S. institutions.
Fellowship recipients receive a $30,000 annual stipend for three years. In addition, a $12,000 cost-of-education allowance is awarded to the doctoral institution Dougherty is now attending, the University of Michigan. In addition, she is afforded international research and professional development opportunities.
Dougherty, of Garden Grove, completed her bachelor's degree in psychology as a member of CSUF's Minority Access to Research Careers (MARC) program, established to encourage and support students interested in the possibilities of advanced university degrees and futures in scientific exploration. Dougherty worked in the laboratory of Jennifer Trevitt, associate professor of psychology, and is now pursuing her doctorate in social psychology. 
Allyson Degrassi (B.S. biological science '11), currently in the biology doctoral program at the University of Vermont, was a student in Cal State Fullerton's Southern California Ecosystems Research Program. The NSF-funded program involves students in summer field courses, independent research with a faculty mentor, as well as travel to local and national scientific meetings to represent their research and plan future career paths. Degrassi, of Laguna Niguel, conducted research in the labs of Steven N. Murray, professor of biological science and interim provost and vice president for academic affairs, and Jayson R. Smith, lecturer in biological science.
Chelsea McCallister (B.S. biological science '11) of El Cajon, is pursuing a master's degree in biology at CSUF in the lab of Nikolas Nikolaidis, assistant professor of biological science. McCallister has contributed to a primary research paper and two review papers and presented a poster that earned an honorable mention at the 2011 meeting of the American Society for Biochemistry and Molecular Biology.
Media Contact:
Debra Cano Ramos, 657-278-4027