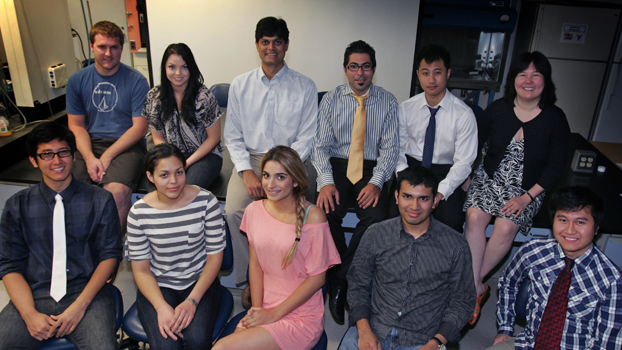 Caption: Biological science faculty members Nilay Patel, center, and Alison Miyamoto, far right in the back row, join this year's incoming Stem Cell Scholars. They are from left: back row, Brian McFadden, Brittany Greer, Reza Ghasemian and Cuong "Jeff" Nguyen; front row, Andrew Yale, Stephanie Dreikorn, Nazaneen Farahani, Syed "Nawas" Ahmed and Pierre Samson. Photos by Karen TapiaDownload Photo
University STEM Initiative
Training Future Researchers
Undergraduates Conduct Stem Cell Studies at Local Labs
Biological science major Nathan Bales has been working as a stem cell researcher — one of the fastest growing areas of the biomedical and biotechnology fields — at Children's Hospital of Orange County Research Institute.
For Bales, who plans a career as a physician, it's been an eye-opening experience about the role stem cell research plays in the future of medicine.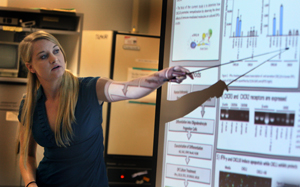 Caption: Leslie Kirby presents her research project as part of a university program to train future stem cell researchers.Download Photo
"We're already beginning to see clinical applications of stem cell research, such as the use of stem cells to treat spinal cord injuries," he said of his research into the use of stem cells to treat a serious disease that affects children. "I feel fortunate to be at the forefront of stem cell research, one of the hottest new fields in science."
Bales is one of 10 inaugural students in the Bridges to Stem Cell Research Program, a 14-month program that focuses on training skilled stem cell researchers. Each year up to 10 students are selected to be Stem Cell Scholars.
"This program gives our undergraduate students an amazing opportunity to gain hands-on experience in human stem cell biology research with leading stem cell researchers," said Nilay Patel, assistant professor of biological science, who directs the program funded by a three-year, $1.28 million California Institute for Regenerative Medicine grant. "By partnering with these local research institutions, Cal State Fullerton students can better prepare for advanced degree programs or careers in the field of stem cell biology."
Stem Cell Scholars conduct seven-month internships with stem cell scientists at CHOC Research Institute, UC Irvine's Sue and Bill Gross Stem Cell Research Center or the Eli and Edythe Broad CIRM Center for Regenerative Medicine and Stem Cell Research at USC.
Students in the program receive a $2,500 monthly stipend during their internship, plus a $2,500 tuition fee waiver during their internship.
The program's science focus reflects Cal State Fullerton's heightened emphasis on increasing student interest in the science, technology, engineering and mathematics, or STEM, disciplines — one of the university's initiatives.
CSUF Training
In preparation of their internship, the scholars attend rigorous lab and lecture courses and participate in cell culture-based research projects on campus.
"The lab component prepares them for the actual hands-on work of handling stem cells, conducting cell-based assays, and communicating their results in both oral and written form," said Alison Miyamoto, assistant professor of biological science, who teaches program courses. "The lecture component gives the students a broader understanding of the stem cell biology field using discussions of classic, primary journal articles that highlight the major milestones in stem cell biology. Students also conduct a major writing project where they write a mock grant proposing novel research in the stem cell biology field.
"Basically, we take care of the very steep learning curve of how to work in a biomedical laboratory so that the scholars can hit the ground running at their internship site," Miyamoto added.
Of the inaugural class, four completed their undergraduate degrees in biological science with a concentration in cell and developmental biology last spring and the remaining are completing their bachelor's degree requirements this fall. Four of the graduating scholars were offered positions in the labs they interned, and two have accepted, while the others are continuing their education, Patel said.
Student Research Opportunities
Samuel Hong completed his UCI internship, calling the experience invaluable as part of his training to become a future medical doctor and researcher.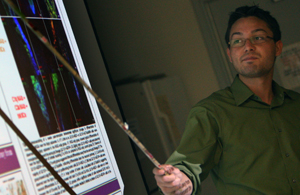 Caption: Samuel Hong presents his research project as part of a university program to train future stem cell researchers.Download Photo
"The best part about my internship experience was getting the opportunity to perform rare research techniques and learning from my mentor how research is conducted in a large, results-driven laboratory," said Hong, who has been accepted into medical school at USC. He is leaning toward a career in academic medicine, which would include clinical practice, teaching and research.
"The experience has provided me with a multitude of benefits," he noted. "It revealed to me the environment of a full-time lab with a dominant focus on research; how translational research is performed and why it is necessary; the unparalleled sense of accomplishment and enjoyment that comes with performing research; and most importantly, a strong desire to continue stem cell research in my future career. The experience I gained will allow me to break into the exclusive science of stem cell research."
During Bales' internship, he studied the use of stem cells to treat the genetic disease mucopolysaccharidosis type I.
"The internship has given me a strong foundation in stem cell and regenerative medicine research, and I feel that the skills I've learned will be put to good use in medical school and throughout my career," Bales said. "I have loved the fact that I am free to work on my own research project at CHOC — and on a topic that I find interesting.
"I like that I've experienced several different lab environments while in this program, and I feel well prepared for any future labs I might be a part of. I was able to write a research proposal and see it gradually take shape through many months of hard work at CHOC."
Fellow scholar Leslie Kirby, who interned at UCI, is intrigued about the potential of stem cell research in treating chronic, debilitating diseases and wanted to be a part of the program to learn more.
"I hope that the work I am doing brings scientists one step closer to discovering a cure for multiple sclerosis," said Kirby, who plans to earn a doctorate in stem cell biology. "I also hope to gain experience and an understanding of obstacles that need to be overcome in the field.
"The program has, and will continue, to open many doors for me as I pursue my career path. I have had networking and research opportunities that would otherwise not be available to me."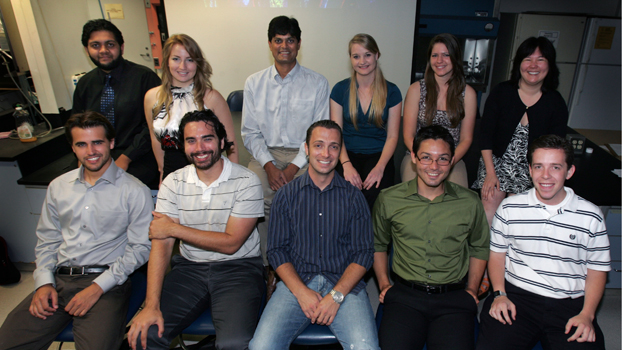 Caption: Current Stem Cell Scholars and faculty members are, from left: back row, Dhruv Kumbhani, Brianna Craver, Nilay Patel, assistant professor of biological science, Leslie Kirby, Lauren Donovan and Alison Miyamoto, assistant professor of biological science; front row, Jonathan Eichelsdoerfer, Christopher Roque, Michael Hadley, Samuel Hong and Nathan Bales.Download Photo
Aug. 9, 2011