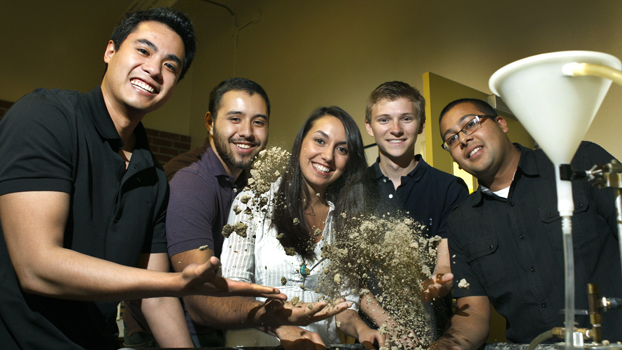 Caption: It's all about soil for a group of civil and environmental engineering students who will be working on research projects as recipients of Eisenhower Transportation Fellowship research awards. From left are: Mark Principe, Kelby Styler, Suzanne Moubayed, Alex Lemmon and Ujjwal Pandey. Their projects involve using recycled concrete in soil modification and soil testing techniques for road improvement. Photo: Karen Tapia Download
Eisenhower Fellowship Awards
Engineering Majors Turn to Research to Meet Transportation Needs
June 27, 2012
Five civil and environmental engineering majors have received Dwight David Eisenhower Hispanic-Serving Institutions Fellowship Program awards, totaling $30,500, for their research projects aimed at advancing the transportation industry.
The objective of the U.S. Department of Transportation, Federal Highway Administration program is to attract qualified students to the field of transportation and research and also to provide them with additional opportunities to enter careers in transportation.
"We are truly pleased to see that our students competed very well nationally in securing these highly coveted scholarships," said Raman Unnikrishnan, dean of the College of Engineering and Computer Science. "Their success is consistently giving Cal State Fullerton presence and prestige among our competitors."
Cal State Fullerton engineering students have been receiving fellowship awards since 2006 when the college first initiated university participation. More than 30 awards, totaling $218,000, have gone to CSUF students, said Sergio Guerra, director of the Center for Academic Support in Engineering and Computer Science.
Recipients are:
Ujjwal Pandey, $10,000
Alexander Lemmon, $7,500
Mark Principe, $5,000
Suzanne Moubayed, $5,000
Kelby Styler, $3,000
Prasada Rao, chair and associate professor of civil and environmental engineering, is Pandey's adviser; Binod Tiwari, assistant professor of civil and environmental engineering, is adviser to the other students. In addition to the fellowships, the students are invited to attend a national transportation conference in January in Washington, D.C.
The award-winners will begin their projects this fall with a focus on addressing various transportation issues. Incorporating the use of recycled materials is a recurring theme in their projects.
Lemmon, a senior living in Irvine, plans to complete his undergraduate degree this fall and pursue starting an engineering company. The "Use of Shredded Rubber Tire in Retaining Wall Design" is the topic of his research about the introduction of recycled rubber tires into different soil mixtures to determine whether the modified soil will increase in strength. "The modified soil could be used for retaining walls and highway embankments," he said.
Moubayed of Mission Viejo, also a senior, plans to finish her studies this fall to then pursue a master's degree in geotechnical engineering at Cal State Fullerton. Her project, the "Use of Recycled Concrete in Soil Modification" will examine how concrete could be combined with existing soil to make the soil strong enough to build a retaining wall.
"This will not only benefit transportation infrastructure, but it will also benefit the environment by recycling scrap concrete pieces. The benefit of using recycled materials is that they can be attained easily; they are cost effective and environmentally friendly," she said.
Styler of Irvine is also finishing his undergraduate degree studies this fall and wants to next earn a master's degree in geotechnical engineering. Through his project on the "Use of Shredded Rubber Tire as Asphalt," he hopes to prove that recycled rubber tires are a viable and practical alternative to asphalt roads.
"I like doing research and trying to find new ways to help the environment — and this is one way to do that. This award will help me to advance my goals by allowing me to have more time in the lab and to learn about the different machines and tests that can be conducted," Styler said. "This project will also give me an edge after I graduate by giving me the extra skills that I would have not gained otherwise."
Principe of Orange is a graduate student and currently serves as the president of the Geo-Institute Graduate Student Organization and the Civil Engineering Honor Society. His career goal is to work for a civil engineering company. "Soil Testing Techniques for Road Improvement" is the title of his project, which involves using different testing techniques of the soil to improve the overall condition of the road. "This testing would provide more data and knowledge to the construction manager and could reduce potholes and construction cost," he said. His goal is to improve Orange County's transportation infrastructure.
Pandey, a senior, is an international student from Nepal, currently living in Buena Park, and working toward becoming a structural engineer with a focus on bridge design. His project, "High-Speed Rail Feasibility Study," is a parametric analysis of high-speed rail and other forms of transportation over the next 15 years. His goal is to "inform the public on where high speed rail would stand economically, socially and environmentally with other modes of transportation."