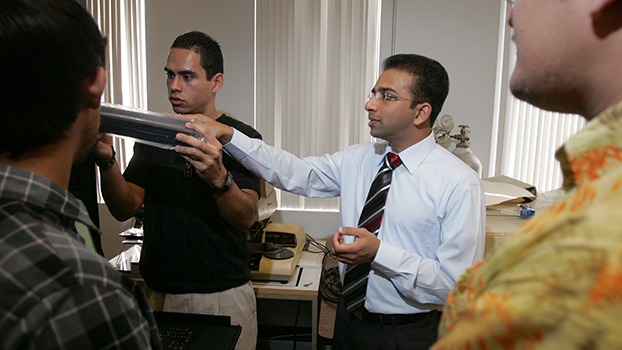 Caption: Kiran George, assistant professor of computer engineering, works with undergraduate students in his latest research effort in wide-band, digital receivers. Photo Karen Tapia  Download Photo
Learning to Design High-Speed Circuits
Computer Engineering Students Gain Access to Leading-Edge Technology
July 18, 2012 :: No. 9
Cal State Fullerton's computer engineering students will be learning and mastering state-of-the-art, high-speed integrated circuit design techniques — thanks to the generosity of Costa Mesa-based Emulex, which is donating advanced technology equipment to the university.
Valued at nearly $850,000, the donated equipment includes four modular systems that can be utilized for design and verification of high-speed integrated circuits. Emulex is also providing software applications, lab support and technical training on the equipment, which will be placed in faculty member Kiran George's computer engineering lab.
George, assistant professor of computer engineering, will oversee the operation of the equipment, which will be used for instructional purposes, as well as undergraduate research and independent student study projects. The college lauded the company's gift, which is its largest corporate donation received to date.
"We anticipate this will be the first of many such gifts-in-kind of equipment from industry partners eager to support undergraduate research experiences and the continued growth of the Computer Engineering Program," said Raman Unnikrishnan, dean of the College of Engineering and Computer Science.
Alumnus Pete Fiacco (M.S. electrical engineering '91), Emulex vice president of ASIC Engineering, facilitated the in-kind gift. Fiacco serves on the college's Industry Advisory Board for the Computer Engineering Program, which provides undergraduates with a theoretical and practical background in both the hardware and the software aspects of computer-based systems.
"The Emulex gift gives us the opportunity to introduce our computer engineering students to the technology and processes they will encounter in their future careers in the industry," said George, a recipient of the National Science Foundation's 2012 Faculty Early Career Development (CAREER) Program award.
Fiacco added that the in-kind gift is a way the company can support the college's Computer Engineering Program.
"I am impressed with the growth of the Computer Engineering Program and the accomplishments of the students and faculty," he said.
Media Contacts:
Hart Roussel, College of Engineering and Computer Science, 657-278-5429
Debra Cano Ramos, 657-278-4027 
About Cal State Fullerton's College of Engineering and Computer Science: The College of Engineering and Computer Science has been ranked among the top engineering colleges in the nation by U.S. News & World Report. The six departments – Civil and Environmental Engineering, Computer Engineering, Computer Science, Electrical Engineering, Mechanical Engineering and Software Engineering – offer five bachelor's degrees and five master's degrees. More information regarding the Computer Engineering Program is available online.  
About Emulex: Emulex, the leader in converged networking solutions, provides enterprise-class connectivity for servers, networks and storage devices within the data center. More information about Emulex (NYSE:ELX) is available at http://www.Emulex.com.