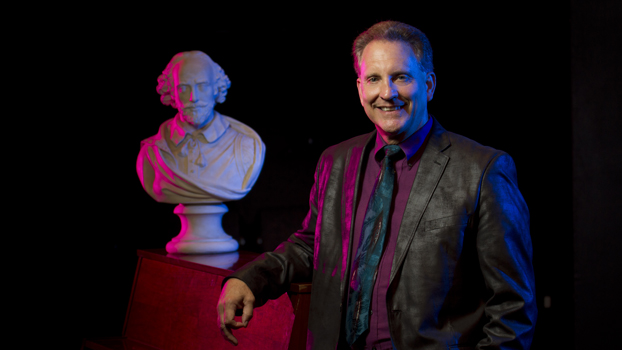 Caption: "Shakespeare and musical theater are my passions," says Jim Volz, professor of theatre and dance, who was recently honored for his work to keep Shakespeare alive on stage. Photo: Matt Gush Download Photo
Almost Everything Shakespeare
Jim Volz Honored for Advancement of the Bard's Works
March 20, 2012
"All the world's a stage, And all the men and women merely players; They have their exits and their entrances, And one man in his time plays many parts, His acts being seven ages."
Jim Volz would agree with with this sentiment from William Shakespeare's play "As You Like It," especially when talking about the English poet and playwright.
For most of his career, the theater professor has promoted the works of the "Bard of Avon," from managing the Alabama Shakespeare Festival and working numerous Shakespeare Festivals all around the world, to editing the Shakespeare Theatre Association's magazine, Quarto.
He is even married to a Shakespearean actress, Evelyn Carol Case, who also teaches on campus.
For all that he has done to advance the enjoyment of the works of Shakespeare, Volz was honored with the American Shakespeare Center's Burbage Award last fall.
The annual award is named for the theatrical Burbage family who built the original Blackfriars Playhouse for Shakespeare's company of actors in London in 1596.
"We created this award to honor the men and women whose work keeps Shakespeare alive on stage," explained Ralph Alan Cohen, co-founder of the American Shakespeare Center in Staunton, Va. "Jim Volz has not only done that with his own companies, he has taught Shakespeare producers all over the world how to do it."
"I actually grew up despising Shakespeare because I didn't understand the words," admits Volz as he sits surrounded by books, posters and other memorabilia of stage and performance, including a bust of Shakespeare. "And really, in college, I didn't like him either."
But eventually, Volz ran into a "glorious professor" who got him interested in the words of such plays as "Hamlet," "King Lear" and "The Taming of the Shrew."
"Then it was seeing the plays come alive that really sold me," he says. And his love for the work blossomed while he served with the Colorado and Alabama Shakespeare festivals.
"So much of the world's dreams, desires, passions and humanity are locked up in Shakespeare's plays," says Volz. "The joy for the producer and the audience is to find the key to unlock the language and set the sometimes hidden secrets free.
"Shakespeare's works continue to offer a window to the world and understanding the Bard is to better understand one's self, world politics, human relationships and the very nature of men and women — kings, peasants, fools, lovers, queens and madmen," he explains.
In addition to teaching Shakespeare, theater production and musical theater on campus since 1991, Volz has authored nine books, including "How to Run a Theatre," "Working in American Theatre" and "Shakespeare Never Slept Here." He has produced more than 100 professional productions and serves as an international arts consultant.
Two years ago, he helped start a Shakespeare festival in Tasmania. Earlier this year, he was involved in the strategic planning for "Bard on the Beach" in Vancouver.
"I stay involved as a way of creating opportunities for our students who have a real passion for him," says Volz, ticking off the numerous full-time positions, apprenticeships and internships he has found for many CSUF students. "Shakespeare and musical theater are my passions.... They have merged pretty well.
"It's been a pretty nice life," he says.
More About Jim Volz
Professor of theatre and dance, Director of theatre management
Education:
B.A. Wright State University; M.A. Bowling Green State University;
Ph.D. University of Colorado, Boulder
Postgraduate work at the Fund Raising School and New York University Management Institute
Service:
President, Consultants for the Arts
Past president and member, New York's National Theatre Conference
National adjudicator, Burger Essay Competition, University of Wyoming
Advisory council, Institute of Outdoor Drama in Greenville, N.C.
Evaluator, consultant and ethics committee member, National Association of Schools of Theatre
Consulting:
A Noise Within Theatre, California
South Coast Repertory Theatre, California
Orlando Shakespeare Festival, Florida
Shakespeare in the Park, Texas
Shakespeare Santa Cruz, California
Colorado/Georgia/Nebraska Shakespeare Festivals