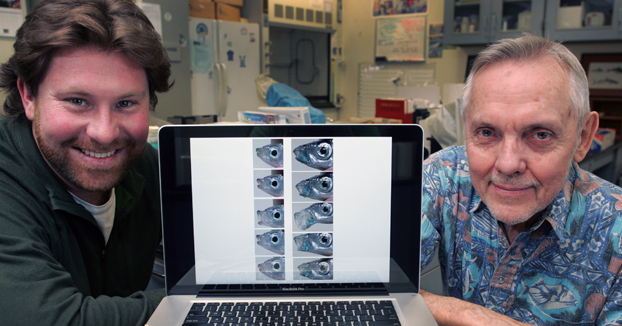 Caption: Benjamin Higgins, left, and his mentor Michael H. Horn, in the lab. Higgin's award-winning thesis focused on the feeding behavior of California grunion. Photo Karen Tapia Download Photo
Biology Graduate Wins Outstanding Thesis Award
Researching the Feeding Habits of Californa's Grunions
May 11, 2012 :: No. 179
When Benjamin Higgins was 7 years old, he would lie on the dock next to his parents' boat and hang his head over the water. He'd stare into the ocean and wonder about the marine life below.
Today, he has come full circle. Higgins is a biological science researcher, making important contributions to marine science.
His graduate thesis, focusing on the feeding behavior of California grunion, confirmed his curiosity as a boy — and has brought him universitywide recognition.
Higgins is the recipient of the 2012 Giles T. Brown Outstanding Thesis Award, given each spring to a Cal State Fullerton student for scholarly achievement at the master's level. The honor is named after the emeritus associate vice president for academic affairs, dean of graduate studies and professor of history.
"Ben has completed a very high-quality research project and written a thesis that is impressive in its scope and ability to communicate," said Robert A. Koch, acting dean of the College of Natural Sciences and Mathematics. "His work will help him communicate his enthusiasm for marine biology in general to the many visitors whom he encounters at the Cabrillo Marine Aquarium where he has worked throughout his graduate student career. I love it when our students can impact both the creation of new knowledge and the awareness of the public to the wonders of math and science."
Higgins called it an honor to receive the acknowledgment for his academic work.
"Winning this award is affirmation of what I began to sense when I was 7 years old ... in search of things I had never seen before. I understood then that there are wonders and mysteries in the natural universe and discoveries to be made every day," said Higgins, who earned a master of science in biology in January and will participate in commencement ceremonies Saturday, May 19.
"I believe this award has shown me that even though life has pulled me in many directions, I remained on the right path. This award has inspired me to keep moving forward, to share my knowledge with others, and most importantly, to acknowledge the people who have shaped me, mentored me and assisted me along the way."
One of these individuals is Michael H. Horn, professor of biological science, who played an important role in mentoring Higgins through the arduous process required in completing his thesis.
"Ben has been an exemplary graduate student and has produced an outstanding thesis," noted Horn. "His study was very thorough and carefully done and is very integrative."
Higgins' thesis is an important contribution to the field of fish functional morphology and to a better understanding of the evolutionary relationships among the Atherinopsidae family of fishes, also known as silversides, Horn explained.
These species are important parts of the food web because they serve as food resources for a large number of predators, such as white sharks, seabirds and sea lions, Horn added.
Higgins described Horn as a "great mentor" because he challenged him to never settle for anything less than best, and expected him to explore every question that arose during the many discussions they shared over a cup of tea.
"Dr. Horn allowed me to develop my own theories and scientific methods while using his vast knowledge and experience to guide those ideas and shape them into what has become my thesis," he said.
"Equally as important, Dr. Horn taught me many other vital skills. His experience and extremely prolific career in ichthyology (the study of fish) serve as a beacon for me, showing me by example what a life of commitment and hard work can ultimately achieve. Of course, there were times when I felt like a marathon runner, constantly pushing toward the horizon in search of a finish line that I wasn't certain would ever materialize. But now, looking back, I know it was clearly worth the time and the effort and realize that Dr. Horn was running alongside me every inch of the way."
Higgins said that while his graduate work was challenging, it also was rewarding and inspirational.
"Every aspect of the program — from the classes, the lab work, the hands-on learning, the teaching opportunities and my professors — was stimulating and always pushed me forward. I believe that my thesis is a clear representation of all that others have encouraged and helped me to achieve."
A Long Beach resident who is a research supervisor at Cabrillo Marine Aquarium in San Pedro, Higgins plans on a career working in an aquarium setting where he can continue his own studies and collaborate with universities to educate both students and the community.
While earning his master's, Higgins conducted public education programs about his study and worked as a teacher's assistant, and this spring, was a part-time biological science lecturer.
He mentored Anaheim junior high school students in the "GEAR UP College Experience" program on campus and is the recipient of the Biological Science Department's Coppel Graduate Science Award and the Stanley Hillman and Lon McClanahan Scholarship in Plant or Animal Physiological Ecology for his research. He has presented his research at scientific conferences and is working toward publication of his thesis.
Higgins credits the opportunities afforded to him at Cal State Fullerton to being accepted into a Ph.D. program. This fall, he will begin the ecology and environmental biology doctorate program at University of California, Santa Cruz. He will study the ecology and morphology of the California moray eel, using various tagging techniques to investigate questions about their population dynamics, as well as how and what they eat.
"The staff and resources available to me at Cal State Fullerton have shaped me into the scientist I am today," he said.
Media Contacts:          
Michael C. Horn, Biological Science, 657-278-3707
Debra Cano Ramos, 657-278-4027