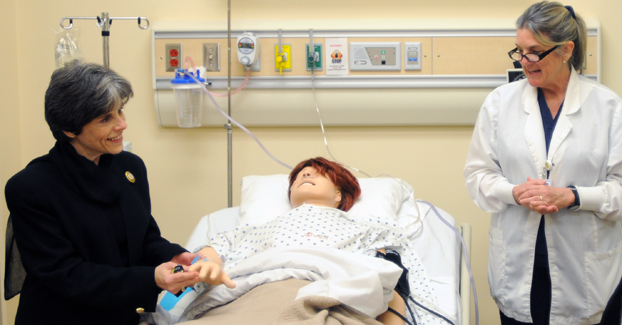 Caption: Cindy Smith Greenberg, left, and Barbara Doyer in the UnitedHealthcare Nursing Skills Lab on campus. Photo: Kelly Lacefield Download Photo
Nurses on Front Line
CSUF Joins National Effort to Support Veterans
April 11, 2012 :: No. 141
Cal State Fullerton's School of Nursing has joined 524 other nursing schools and organizations nationwide in committing to further educate nurses so they are prepared to meet the health needs of service members, veterans and their families.
The initiative, announced today (April 11) by first lady Michelle Obama and Jill Biden, is a campaign led by the American Nurses Association, American Academy of Nurse Practitioners, American Association of Colleges of Nursing and the National League for Nursing, in coordination with the Departments of Veterans Affairs and Defense.
The initiative's aim is to educate current and future nurses on how to recognize and care for veterans affected by post-traumatic stress disorder, traumatic brain injury, depression and other combat-related issues in ways appropriate to each nurse's practice setting.
"Whether we're in a hospital, a doctor's office or a community health center, nurses are often the first people we see when we walk through the door. Because of their expertise, they are trusted to be the front line of America's health care system," Michelle Obama said in a prepared statement. "That's why Jill and I knew we could turn to America's nurses and nursing students to help our veterans and military families get the world-class care that they've earned."
Cindy Smith Greenberg, professor and director of Cal State Fullerton's School of Nursing, said: "We are committed to preparing students to use best practices in providing care to veterans and their families who may have unique care needs."
According to national statistics, one in six of the more than 300,000 veterans returning from Iraq and Afghanistan suffer from post-traumatic stress disorder and traumatic brain injury.
Greenberg said undergrads and graduate nursing students will learn how to help veterans with such trauma through a number of existing nursing courses.
Joining Cal State Fullerton in the initiative are five other CSU campuses — East Bay, Long Beach, San Diego, San Jose and Sonoma — plus 20 other nursing schools and organizations in California. The complete list of 525 is available online.
For more information about the initiative, visit http://www.aacn.nche.edu/news/articles/2012/white-house-joining-forces.
Media Contact: Mimi Ko Cruz, 657-278-7586, mkocruz@fullerton.edu