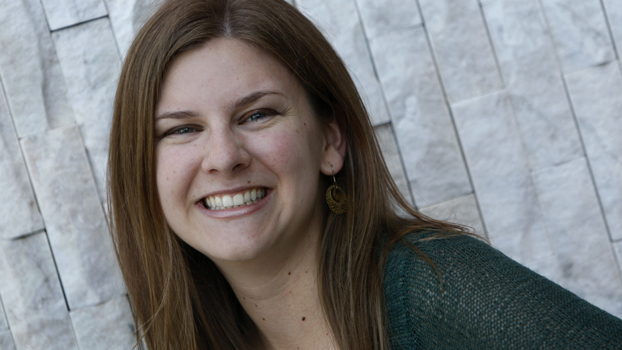 Caption: Graduate student Maureen K. Fox, who is set to complete her M.A. in English in May, is this year's recipient of the university's International Understanding Award. Photo: Karen Tapia Download Photo
Promoting World Appreciation
Grad Student Lauded for International Understanding
May 8, 2011
Since she was a child, avid reader Maureen K. Fox has yearned to travel to all the places in all the books she read.
So far, she's been to 17 countries.
"One of my goals in life is to go to every single country and continent in the world," said Fox, who is completing her master's degree in English and is this year's recipient of Cal State Fullerton's International Understanding Award.
"I am grateful not only for this award, but for everything CSUF has provided me over the last six years," said the 24-year-old, who earned her bachelor's degree in English and communications, summa cum laude, as a President's Scholar in 2010.
"CSUF introduced me to my passions for international education and travel and gave me direction in what I want to do with my life — what every college student wants to figure out," said Fox, who will participate in commencement ceremonies Sunday, May 20. "So many wonderful faculty, staff and peers encouraged me to pursue my passions as much as possible and constantly inspired me to do my best."
Fox's passion, she said, is to achieve and promote international understanding through education.
She discovered her enthusiasm for world cultures and international studies after spending the 2008-09 academic year studying at the University of Hull in England, where she "gained an appreciation for other cultures."
Studying abroad, she said, is a "life-changing experience."
Upon her return to Fullerton, Fox became a study-abroad ambassador, encouraging fellow students to study in other countries. She also works as a tutor for students learning English as a second language at Santa Ana College.
Through her roles as an officer and member of campus clubs that focus on promoting international understanding, Fox said she discovered that she enjoys teaching and learning about other cultures and plans to do so at the university level after she completes a doctoral program.
"Maureen is very capable of meeting all her goals," said Marlin Blaine, associate professor of English and Fox's graduate adviser. "She's going to do whatever she sets her mind to because she's smart, studious, meticulous, very well- prepared, mature, well-spoken and likeable. I'm enormously proud of her."
Fox recently answered the following questions.
Q: Why did you win the International Understanding Award?
I believe I won the award because of my passion for all aspects of international education, both inside and outside the classroom. I truly believe that individuals can change the world, and I believe I can do my part through education. I have dedicated myself to not only increasing my own international knowledge, but also to encouraging others to do the same.
Q: Why is it important to be aware of other cultures?
Technology and globalization are making our world smaller every day, and this has led to a new era of cultural evolution, since more and more people are relocating and traveling, and different cultures are coming into contact and influencing one another. This is happening whether people like it or not, and clashes are inevitable, for so much hardship and conflict stems from fear of the unknown. But, it is also a fantastic opportunity to learn from one another and to overcome differences. If people increase their awareness and understanding of other cultures, if they change their perspectives, then the world will be a happier, more productive and, certainly, more interesting place. Some people don't believe world peace is possible, but cultural understanding is an essential step in making that a reality.
Q: What do you get out of promoting cultural understanding?
Happiness and a sense of purpose. So many students want to travel and study abroad, but they often let their concerns about cost, transferring units and fear of the unknown stop them from going. After my life-changing experience, I know how important, educational and amazing it is to study abroad, and I want everyone to do so. So many concerns can be addressed by getting the right information. I was personally extremely grateful for the many wonderful people at CSUF and study-abroad alumni who answered all of my questions and helped me make my dream a reality, and I want to show that gratitude by returning the favor and sharing my knowledge with others. I'm also a storyteller and a story-lover by heart, and I love hearing about other student's adventures and experiences as much as I enjoy telling them my own. To have played even the smallest of parts in someone else's great adventure is very satisfying.
Q: Do you speak other languages besides English?
I studied Spanish in high school and can translate Middle English — I studied Middle English at the University of Hull during my year abroad—but my strongest language, other than English, of course, is Italian. I am in my second semester of Italian at CSUF. I originally decided to learn Italian to help me with my research — both with my master's project and future doctoral study — but I absolutely love the language. I hope to put my skills to good use.
Q: What's next?
I am currently pursuing several different opportunities in research and teaching abroad, including a Fulbright English Teaching Assistantship in Malta and the English doctoral program at Oxford University. Depending on the outcome of these applications, I may take some time to pursue a career in publishing or the travel industry, but I will eventually return to school to earn my doctorate in English, emphasizing early modern studies, in order to become a university professor. Regardless of what career path I follow, I know international education will remain an important part of my life, and that I will find ways to keep my passion for world cultures and global studies alive so that I can both continue to learn and teach others about the importance of being globally-minded.