'Hybrid Romance'
Associate Professor Yun's Watercolors on Exhibit
March 6, 2012
In "Hybrid Romance," Lawrence T. Yun, associate professor of art, exhibits his latest watercolor series March 8-May 6 at the Los Angeles Municipal Art Gallery in Barnsdall Park.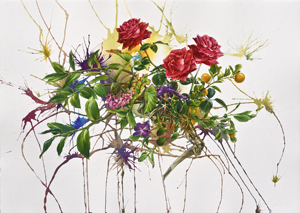 Caption: Lawrence T. Yun's Barnsdall exhibit artwork includes, "Spring Garden," above, and "Fall Garden," below.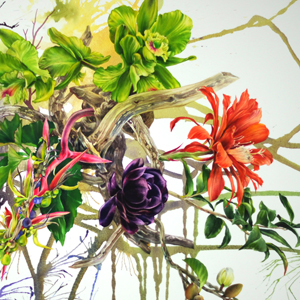 His solo exhibition is being displayed in the facility's Project Room gallery. An opening reception is scheduled from 2-5 p.m. Sunday, March 11, and Yun will present an artist's talk at 2 p.m. Saturday, April 7.
The exhibition of 20 watercolors features two different groups of paintings on the "Hybrid Romance" theme — 17 new paintings from 2012 and three works from 2010.
"The paintings are meant to be aesthetically pleasing," said Yun, "yet the deliberate awkwardness of the structured subject matter conveys subtle messages that trigger the audience to question the imagery."
Born in Taiwan and now living in Los Angeles, Yun has exhibited his paintings throughout California, including at the Long Beach Art Museum and the Los Angeles Municipal Gallery in Hollywood, as well as in Kentucky, Nevada, Oregon, Wisconsin and New Delhi, India.
"His work delivers a natural, yet imaginative oddity beneath the surface of his meticulously orchestrated floral compositions," notes the description on the Barnsdall gallery website.
Yun, who joined the Cal State Fullerton faculty in 2001, teaches courses in descriptive drawing, two-dimensional design, illustration and watercolor. His work was most recently on view on campus Jan. 28-March 1 in the "No Regrets 2012 Faculty Show" in the Begovich Gallery.
His paintings are part of the collections of the Franklin Mint, Sony Pictures, the Brand Library and Art Center in Glendale, the Palos Verdes Arts Center and Terranea Resort in Rancho Palos Verdes. Individual private collectors include Lee and Nicholas Begovich, for whom the university's Begovich Gallery is named.
Yun is represented by the Schomburg Gallery in Santa Monica.
The Los Angeles Municipal Art Gallery in Barnsdall Park is located at 4800 Hollywood Blvd., Los Angeles, 90027. Exhibit hours are noon to 5 p.m. Thursdays-Sundays and noon – 9 p.m. on the first Friday of each month. Admission is free.
Additional information is available by phone at 323-644 6269 or online.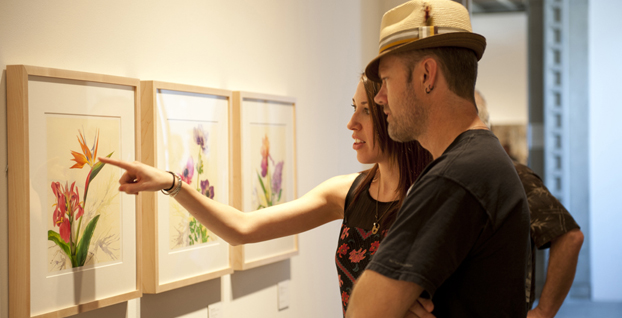 Caption: Visitors pause to study Lawrence T. Yun's watercolors during the opening weekend of his solo exhibition at the Los Angeles Municipal Art Gallery in Barnsdall Park. Photo: Stephen Yun