Faculty Art Showcased
'No Regrets' Exhibit Continues Through March 1
Thirty-two full-time art faculty members will exhibit their most recent work in a new exhibit opening Jan. 28 in the university's Begovich Gallery.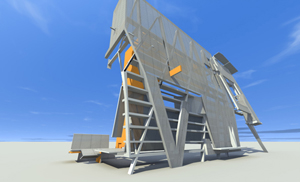 Caption: Among the artists who will be on exhibit is Bryan Cantley, professor of art, who created this preliminary study for an entry wall. Cantley is known for his theoretical architecture designs.
"No Regrets" features oil paintings, drawings, watercolors, animation character studies, cast glass sculpture, videos, glass, ceramics, graphic design and kinetic artwork. Participants are listed at right.
The exhibit continues through March 1. A reception is scheduled from 5-8 p.m. Feb. 28. Gallery hours are noon to 4 p.m. Mondays-Thursdays, noon-2 p.m. Saturdays; closed Feb. 20.
Following the faculty show will be "Steampunk: The Beginning" opening April 7 and continuing May 10. Both shows are curated by Mike McGee, professor of art.
Jan. 26, 2012