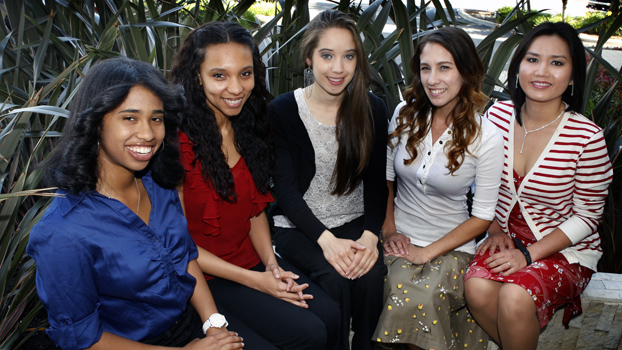 Caption: Graduating McNair Scholars, from left: Dominique L. Johnson, Danielle Gibbons, Angie Rodriguez, Skye N. Parral and Emily Nguyen Wieber. Photos: Karen Tapia Download
Undergrad Researchers Graduate
Eight McNair Scholars Complete Bachelor Degrees
May 16, 2012
Eight Ronald E. McNair Scholars will cross the stage at commencement this weekend, most stopping to deliver the student keynote address at their respective ceremonies.
Two of the scholars graduated in January. They are Danielle Gibbons (B.A. art '12, cum laude) and Brittany Herrick (B.A. psychology '12). Gibbons, 23, of Yorba Linda will deliver a keynote address at the College of the Arts ceremony Saturday, May 19.
Gibbons has been awarded the McNair Fellowship, which fully funds her doctoral studies. In the fall, she will begin working on her doctorate in art history and archaeology at the University of Missouri-Columbia.
The McNair Scholars earning their bachelor's degrees this month, their majors and commencement dates are: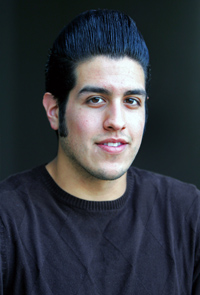 Caption: Diego A. Ceballos Download
Diego A. Ceballos, Spanish and Chicana and Chicano studies, May 19
Dominique L. Johnson, ethnic studies and communications, magna cum laude, May 19
Emily Nguyen Wieber, biological science, May 19
Skye N. Parral, psychology, May 19
Angie Rodriguez, criminal justice and sociology, cum laude, May 20
Nhi Troung, anthropology, May 19
Delivering the student keynote address at their respective commencement ceremonies will be: Ceballos, 22, of Lynwood; Johnson, 22 of Lakewood, Nguyen Wieber, 28, of Fullerton; and Parral, 23, of Gardena.
Johnson will pursue her master's degree in journalism at the Cronkite School of Journalism and Mass Communication at Arizona State University in the fall. She has been awarded the Reach For The Stars Fellowship, which pays her tuition for one academic year.
Nguyen Wieber was offered a full ride to the doctoral program in plant health at Louisiana State University, but has decided to pursue her master's degree in biology at Cal State Fullerton in the fall. She plans to pursue a doctorate after completing her master's degree. During her keynote address, she will tell the story of her life from growing up in an impoverished village in Vietnam to her journey to America and her growth as a researcher under the guidance of CSUF faculty members, who she credits for her academic success.
Parral will pursue her master's degree in psychology at CSUF in the fall. She is the winner of this year's Outstanding Undergraduate Award from the Psychology Department.
As McNair Scholars, the students were paired with faculty mentors, and they conducted research projects, presented papers and attended conferences worldwide. The goal of the program is to prepare scholars from underrepresented communities for graduate school.