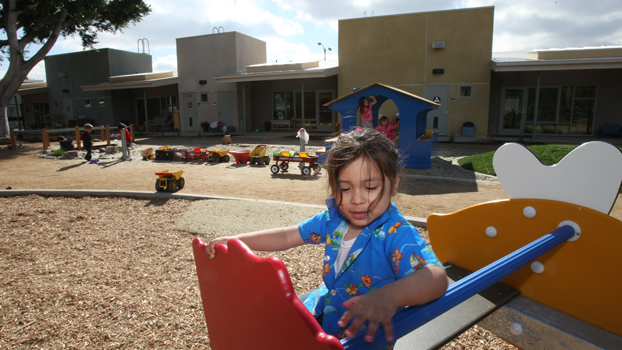 Caption: Playtime also is learning time as these children explore and use the various toys and playground equipment located on the grounds of the CSUF Children's Center. Photo: Karen Tapia Download Photo
Educating the Youngest Campus Members
Federal Grant Funds Educational Support and Attendance
March 8, 2012
A U.S. Department of Education grant is helping parents of small children complete college — by funding their children's day care needs.
"It's a tremendous help for those parents who couldn't afford to send their children to day care otherwise," said Jenny Taylor, director of Cal State Fullerton's Children Center, and co-recipient of the federal Child Care Access Means Parents in School, or CCAMPIS, grant. This year — the third of the four-year grant — the program was awarded $248,353 for a total of $744,587 received to date.
"In previous semesters, I had to get child care from an outside provider, which meant an additional two hours of commute time, scheduling incompatibilities and hundreds more dollars," said Lynda Chavez, a senior public administration major. "This semester, I have to complete an internship; without the child care subsidy there is no way I could have afforded to cut back my hours at work enough to give me time for an internship, which is a requirement to complete my degree, and to pay for child care."
"Enrolling my children at the Children's Center permitted me to focus on the things I need to do" to complete the degree, said Jorge A. Luquin, a Gulf War veteran working on a master's degree in biology. "Despite the difficulties in achieving an advanced degree and the increasing price of education, I am grateful to the Children's Center for both the absolutely fabulous care they provide my children, and the time and peace of mind that they provide me.
"My children just love the center and adore their instructors, the attention and care that they get, as well as the stimulating activities they do," he added. "My parents are always bragging how smart and well-prepared their grandkids are. The Children's Center is very open and helpful, and I have even incorporated some of their methods to improve my own child-rearing. Yes, their techniques are that good!"
Added Chavez: "Having Edward enrolled in the Children's Center has given me more time to spend with him, because his schedule is 100 percent in sync with mine. The best part of taking advantage of the center is the peace of mind that I get from knowing that my son is in great hands with teachers who are well-equipped to promote his health and development."
The federal funding is especially important now that the state, which had been underwriting some of the center's programs, is cutting its support, says Bev Vargish, assistant center director. "The governor's January budget proposal denies subsidy for all college students not meeting work-participation requirements. This threatens all campus child development programs. The CCAMPIS Grant is going to be especially important to low-income student families seeking child care on our campus."
The multiyear grant is helping to further training for center staff, including the many CSUF students working at the center as part of their education. The funding supports the hiring of an educational coordinator who will implement on-site training, in-site services, professional development opportunities and assist in classroom curriculum development, said Taylor.
"It funds our staff members' attendance at conferences and external training that we weren't able to provide prior to the grant," she noted. "For parents who are working to improve their lives through education, they are able to see that their children begin that path in a quality educational setting."