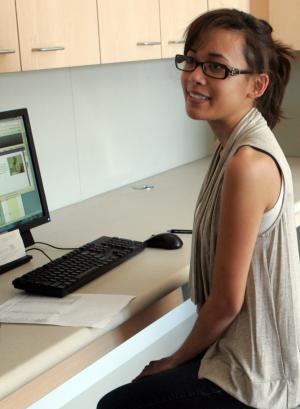 Caption: Student Gayle Villapando is one of the student assistants working at the new Children's Center and cares for children ages 6 to 18 months old in "The Nest." Photo by Karen Tapia
Life Science
Biochemistry Student Teaches Children About Life
SENIOR Gayle Villapando is studying biochemistry and learning about how living things function.
Outside the classroom, the future scientist is teaching young children about life.
Villapando, who is planning a career in forensics, has worked for 3½ years at the Children's Center. She is among the student assistants, many of whom are studying early childhood development, who work at the center either in the classrooms, the kitchen or offices.
The student assistants work side-by-side with the center's full-time master teachers to care for, and teach and care for infants, toddlers and preschoolers.
As an assistant teacher, she said she enjoys her part-time work at the center because it has taught her responsibility, accountability and the importance of relationships between people of all ages.
"When my life as a science undergraduate gets stressful due to classes and lab experiments, I know I can always come into work and find a place to forget about my worries — if only for an hour," said Villapando, who is conducting research of contaminants in drinking water, under the supervision of Zhuangjie Li, associate professor of chemistry and biochemistry.
In her role at the center, Villapando hopes to instill in her little students an acceptance of others, ambition and creativity.
"Working with young children is a pleasure in myriad ways. Their joy of the simple things and curiosity never fail to surprise me. They learn from adults, and likewise, we learn from them," said Villapando, who plans to complete her studies this fall.
She said she loves the new Children's Center.
"What I'm most excited about is all the space! Every room gets a backyard with grass and playground equipment suitable for their age, and the staff and parents get their own lounge with beautiful new furniture," she said. "Plus, our new kitchen is so impressive! The children have so much more room to explore and play. We're all excited to be in our new center."
February 22, 2011