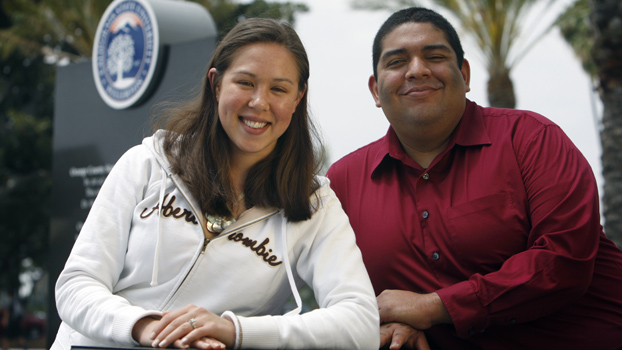 Caption: Melanie Yamabe, left, and Andres Carrillo are this year's recipients of the Alumni Association's Outstanding Senior and Outstanding Graduate Student Awards. Photo: Karen Tapia Download Photo
Top Scholars and Community Leaders
Outstanding Graduate and Senior Focus on Helping Others
May 16, 2012
Strong scholarship and the dedication to help others through tutoring, community endeavors and research support is the common thread between two Cal State Fullerton students who are being honored this year with the Alumni Association's Outstanding Senior and Outstanding Graduate Student awards.
Melanie Yamabe of Santa Clarita, who graduates this month with a bachelor's degree in business administration with a concentration in accounting, and Andres Carrillo of Fullerton, who is graduating with a master of science degree in biology, are this year's honorees.  Each will receive a $1,000 cash award and a plaque in recognition for their achievements and community service during the university's annual Honors Convocation Friday, May 18.
Research, Teaching and Mentoring
This year's Outstanding Graduate award recipient has long focused on the marine life living in California's waters. Coming to Cal State Fullerton, Andres Carrillo found a world of research opportunities, joining the university's Southern California Ecosystems Research Program and working with Kathryn Dickson, professor of biological science.
"I entered in the SCERP program in 2004, knowing that I wanted to study the marine ecosystem. I had little idea what research was, but upon completing the program and earning a bachelor's in biological science in 2007, I had become completely immersed in research and I was hooked," said Carrillo.
Carrillo's research has focused on grunion, an interest he developed while working at the Cabrillo Aquarium where he exposed students to discovering how the creatures hatch.  "They need waves, water movement, in order to hatch," he explained. "Grunion are only found on coastlines of California and Baja California and we know very little about them."
"Andres is 'in his element' when he is at the Cabrillo Aquarium, in the laboratory, classroom or field, and helping others to understand and appreciate marine science, larval fish biology or aquaculture," said Dickson, who nominated Carrillo for the alumni association honor.
"He has an excellent grasp of the practical aspects of raising fish and enjoys working with fish and educating the public."
In addition to his service with the Cabrillo Marine Aquarium, Carrillo has worked with students at the Ocean Discovery Institute and South Gate Middle School. He was named a Sally Casanova CSU Pre-Doctoral Scholar in 2009 and has been recognized with a CSU Graduate Equity Fellowship, a Southern California Academy of Science Student Research Grant and Society for Integrative and Comparative Biology D. Dwight Davis Award for best oral presentation by a student.
"He is a talented and enthusiastic researcher, teacher, mentor and role model," said Dickson, noting his work on campus with such programs as the Howard Hughes Medical Research Institute and GEAR UP (Gaining Early Awareness and Readiness for Undergraduate Programs), as well as more informally with undergraduates and high school interns.
"I really valued the experience of working and helping others in the lab," said Carrillo. "I enjoyed working with faculty members like Dr. Dickson, and like them, I want to engage the students I teach in the research experience."
This fall, Carrillo will head to UC Irvine to continue his studies in their doctoral program. His goal is to now become a university professor both teaching and conducting research.
He will not be at his own commencement but will be front and center supporting his sister who graduates with a bachelor's degree in liberal studies Sunday, May 20.
Ambassador for Campus
Melanie Yamabe is this year's Outstanding Senior award recipient. She joined the university in 2008 as a President's Scholar, a scholarship program for high-achieving high school seniors.
During her four years on campus, she has served as an 'ambassador for the university,' donating her time to campus and community organizations, according to Deanna Merino-Contino, director of the campus program.  "She is very passionate about helping others, which is evident in the community service events she has directed with the President's Scholars Student Association, Volunteer and Service Center and the Student Athletic Advisory Council."
Among the activities that she has taken part in, Yamabe volunteered at the Tucker Wildlife Sanctuary in Modjeska Canyon.
"It has been the best experience as I have watched how that place has changed," she noted. "Over the course of my four years, I have helped to paint their small natural history museum and their bridge, have planted flowers throughout the habitat area, weeded, dug a trench to drain rain water and cemented in parking poles and rebuilt steps on the hiking trails.
"What makes the volunteer experience the best is that I have clearly witnessed how the place has changed and developed through our hard work and the work of other volunteers."
In addition to chairing various charity walks and runs through the President's Scholars Student Association and participating in other community service activities, the former gymnast — she spent two years on the Titan Gymnastics team — has worked as an English pronunciation and grammar tutor to international students and provided business writing assistance to students through the Mihaylo College of Business and Economics' Business Tutoring Center.
"It's been great to build relationships with my fellow students through these activities," said Yamabe, who plans to marry in June and, in September, begin work with Ernst & Young, where she has interned during the last two summers. Eventually she would like to become a certified public accountant.
"I'm so thankful for this award and for all the support of the faculty and staff members that have helped and advised me throughout my college career. It's been wonderful to be here at Cal State Fullerton," said Yamabe. "Overall, I wanted to take advantage of every and all opportunities the school had to offer, since I only had four years. I wanted to make them the best four years possible."
Yamabe will take part in university and college commencement ceremonies on Sunday, May 20.