Extraordinary Leadership
Scott Hewitt Honored With Faculty Leadership Award
May 26, 2011 :: No. 168
A. Scott Hewitt, professor of chemistry and biochemistry and a former chair of the university's Academic Senate, was honored May 19 with Cal State Fullerton's Faculty Leadership in Collegial Governance Award.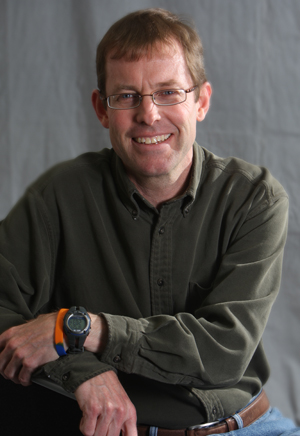 Caption: A. Scott HewittDownload Photo
CSUF President Milton A. Gordon presented the annual award — established in 1998-99 to honor faculty members who have made significant contributions to collegial governance — to the educator while his fellow Academic Senate members gave him a standing ovation.
"Scott, you have a long and active history of collegial governance at the department, college and university levels," said Gordon. "Since joining the faculty in 1991, you have served as a member, vice chair or chair of 95 department, college or university committees."
Noted by Gordon were Hewitt's 2008-10 tenure as chair of the Academic Senate, service as senate liaison with the Planning, Resource and Budget Committee to develop a series of campuswide communiqués regarding budget reductions and furloughs, and partnership with the president to solicit campus input regarding potential cost savings and efficiency suggestions.
Gordon also stressed Hewitt's efforts to advance university sustainability efforts, including chairing the Academic Senate Ad Hoc Sustainability Committee in 2007 and serving on an Administration and Finance Division sustainability committee funded via the Mission and Goals Initiatives process.
"Inclusiveness and collegiality have been hallmarks of your efforts, not only on a personal basis, but through the institutionalization of these principles in the operation of the Academic Senate," Gordon said to the audience. "You have consistently exemplified the principles of shared collegial governance. Your vision and influence will be present for years to come.
"Your colleagues and I agree that Cal State Fullerton is a better university because of your leadership in collegial governance. No one could be more deserving of the 2010-11 Faculty Leadership in Collegial Governance Award than you."
Hewitt was visibly surprised at being recognized. "It is quite an honor and means a lot to me. However, it is sort of strange to now be on the list of award winners, as I have always admired the previous award winners for their leadership and their role in promoting collegial governance.
"Some of these leaders have been my mentors," he added.
Hewitt is a member of the University Sustainability Task Force and vice chair of the Chemistry and Biochemistry Department. He also is a member of several department committees dealing with personnel, lower-division and analytical/physical chemistry curriculum.
In addition to his chairmanship on the Academic Senate, Hewitt was vice chair of the faculty advisory body for two years and a member-at-large on the organization's executive committee for six years.
Campuswide, he has served on such committees as the Athletics Advisory Council, the Student Fee Advisory, Risk Management, Parking, Auxiliary Services Corp. and Commencement committees.
Hewitt earned a doctorate in physical chemistry from Columbia University and was a postdoctoral associate at Cornell University before joining the Cal State Fullerton faculty.