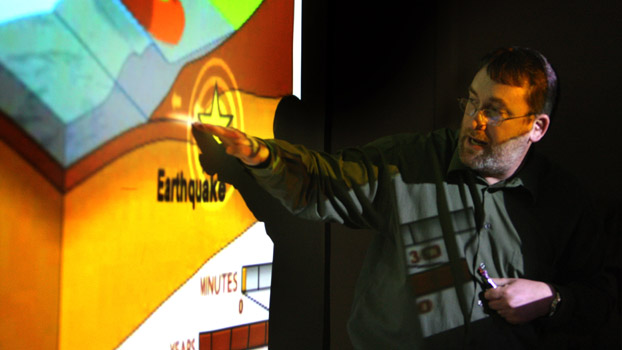 Caption: David D. Bowman, chair and professor of geological sciences, discusses the type of earthquake that hit Japan in March.  The researcher, a member of the Collaboratory for the Study of Earthquake Predictability who has spoken often about earthquakes and their aftereffects, joins two fellow faculty members for a Sept. 27 talk "Earthquake Watch 2011: Nuclear Power Plants in Earthquake Country" hosted by Cal State Fullerton's College of Natural Sciences and Mathematics. Photo by Karen TapiaDownload Photo
Nuclear Power Plants in Earthquake Country
Sept. 27 Presentation on Implications for California
Sept. 20, 2011 :: No. 25
What:   
Cal State Fullerton faculty members David D. Bowman, Greg Childers and Binod Tiwari will present "Earthquake Watch 2011: Nuclear Power Plants in Earthquake Country" at the Sept. 27 Colleagues Colloquium, hosted by the university's College of Natural Sciences and Mathematics. The event is open to the public.
When:   
Tuesday, Sept. 27
7 a.m. registration
7:30-9 a.m. program
Where:   
Fullerton Marriott
2701 E. Nutwood Ave., Fullerton, CA 92831
Additional:   
Bowman, chair and professor of geological sciences; Childers, associate professor of physics; and Tiwari, assistant professor of civil and environmental engineering, will compare and contrast both the 2011 Japan and Virginia earthquakes to temblors that may be expected in California, as well as their impact on nuclear power plants and implications for California. Last spring, Tiwari visited Japan following the 9.0 magnitude earthquake and resulting tsunami that devastated the country. He was selected as part of the American Society of Civil Engineers' earthquake/tsunami post-disaster assessment team.
The NSM Colleagues Colloquiums are forums held each academic year for experts to address key scientific issues, followed by public discussion.
Cost:   
$10 for the public and free for Colleagues members. Reservations are requested and seating is limited. RSVP online at http://nsm.fullerton.edu/colleagues/RSVP or call 657-278-3021.
Media Contacts:
  
David D. Bowman, Geological Sciences, 657-278-8558 or dbowman@fullerton.edu
Yvonne Moar, College of Natural Sciences and Mathematics, 657-278-3021 or ymoar@fullerton.edu
Debra Cano Ramos, Public Affairs, 657-278-4027, 657-278-2414 or dcanoramos@fullerton.edu