Great Flying Pumpkins!
Gourds to be Tossed Hundreds of Feet at Oct. 31 Engineering Event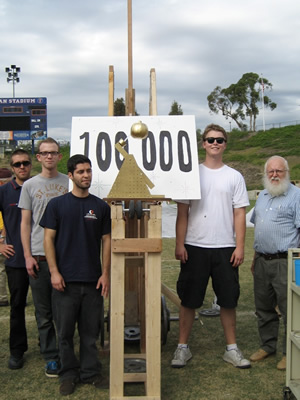 The Cal State Fullerton chapter of the Society of Automotive Engineers won last year's Pumpkin Launch. The figure 100,000 represents the points earned for a direct bulls's-eye on the target. At right is Peter Othmer, chair of the Mechanical Engineering Department.
Grimacing, glowing pumpkins may throw a scare into people on Halloween night, but they're going to be the victims during the day as dozens, possibly hundreds, will be lofted high into the air to smash down on targets 200 feet away in Cal State Fullerton's Titan Stadium … all in the name of engineering.
The free event, sponsored by the Cal State Fullerton College of Engineering and Computer Science, the Discovery Science Center in Santa Ana and Booz Allen Hamilton, an international strategy and technology consulting firm, includes engineering and technology as current as a solar-powered doghouse and as ancient as medieval chain mail and battle armor.
The Halloween day event runs from 9 a.m. to 12:30 p.m. Saturday, Oct. 31, and includes music, information booths and engineering games and prizes for children.
Pumpkin Launch teams will start testing at 10 a.m., and the competitive launches run from 11 a.m. to 12:30 p.m. The Cal State Fullerton chapter of the Society of Automotive Engineers is the defending champion.
Teams with catapults, trebuchets — a more sophisticated type of catapult — air cannons and other devices that can send a 10-pound pumpkin down field to accurately land on a target will compete for the Pumpkin Trophy. Some of the machines will be as tall as 16 feet. The term "engineer" is derived from such devices: In 14th-century England, those who built and operated catapults and trebuchets — known as engines of war — were called "engine'ers," which evolved into engineers.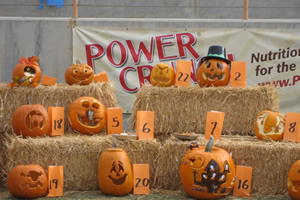 Inspired pumpkin designs were lined up for judging at last year's Pumpkin Launch event in Titan Stadium.
Two internships with Booz Allen Hamilton, which has offices in Orange and Los Angeles, will boost collegiate teams' motivation. Members of the winning collegiate team will draw for those professional work-experience opportunities.
Launch participants include:
Senior Momentum, a group of senior-citizen trebuchet enthusiasts
Godinez High School team sponsored by Booz Allen Hamilton
Troy High/Valencia High team sponsored by Boeing Co.
Future Scientists and Engineers of America
and Cal State Fullerton's chapters of:
American Society of Civil Engineers
American Society of Mechanical Engineers
Computer Science Video Game Design Club
Institute of Electronic and Electrical Engineers-Computer Society
Society of Automotive Engineers
Students Without Borders, a group dedicated to using their skills to help where needed around the world
In addition to the pumpkin-toss activities, a student-conceived, designed and built solar-powered, computer-controlled doghouse and a Mini Baja Competition dune buggy will be displayed and demonstrated on the periphery of the launch field.
Medieval technology arrives with the Orange County-headquartered Kingdom of Esperance group from the nationwide Adrian Empire Medieval education organization. At 11 a.m., Esperance members will do battle in full armor. Throughout the event, chain-mail manufacturing, armoring, woodworking, spinning, lucet cord-making (a strong cord made from a single string using a forked stick) leather working and arrow-making skills will be demonstrated. In addition, archers will show how bodkin arrows, which have arrows with points like spikes, can penetrate steel plate.
Children can participate at various venues, including those for: building a boat from foil that will hold the most marbles before sinking, making popsicle-stick catapults to shoot marshmallows at targets, lofting whiffle balls at targets with catapults, and making the tallest tower possible from a given number of blocks. Each participant will get a badge with the youngster's level of performance.
Children can bring carved pumpkins for judging. The winner will be awarded a gift card worth up to $100.
Campus parking is free on the day of the event. Titan Stadium is located south of Yorba Linda Boulevard at Associated Road, between State College Boulevard and the 57 Freeway.
For more information, contact Sandy Norell in the CSUF College of Engineering and Computer Science, at 657-278-5987 or Keith Brush, Discovery Science Center, at 714-229-2224.