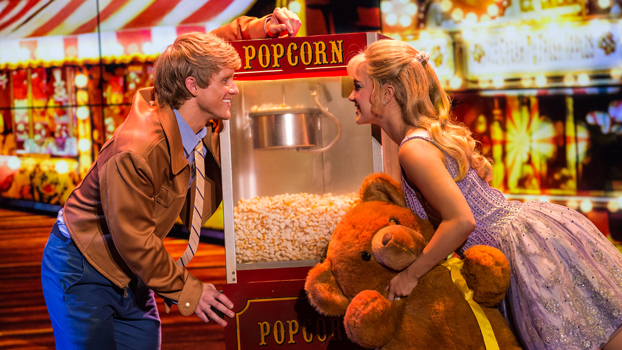 Caption: Former CSUF theatre arts major Marshal Kennedy Carolan (left) opposite Lauren Zakrin in the premiere of "Surf the Musical" at the Planet Hollywood Resort & Casino in Las Vegas. Photo: © Erik Kabik/erikkabik.com
'Surf the Musical'
Titan Catches Wave of Good Vibrations
Aug. 1, 2012
This summer, theater-goers are joining beach-lovers in grooving to the harmonies of the fabled Beach Boys, right along with theatre arts-musical theatre alum Marshal Kennedy Carolan.
He's cast in the world premiere of "Surf the Musical," which opened in June in the Showroom at the Planet Hollywood Resort & Casino in Las Vegas. The 90-minute musical is geared for all ages.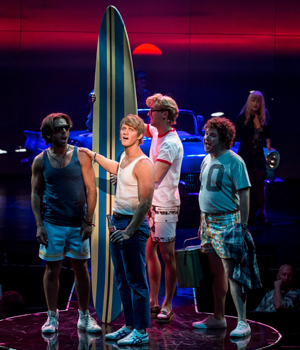 Caption: The spotlight shines on Marshal Kennedy Carolan in the world premiere of "Surf the Musical" at the Planet Hollywood Resort & Casino in Las Vegas.               Photo: © Erik Kabik/erikkabik.com
The show's promotional materials promise "onstage sparkle of the big waves" and "a company of sun-tanned performers, along with dazzling dance moves, incredible scenery and fun costumes center stage. The production rocks the audience with legendary beach songs, as they tell a story of love and fun, set in the nostalgic, happy times of the 1960s Southern California beach community."
The blond and buff Carolan certainly looks the part of Tanner, "love interest for the female lead of Brooke, ... the rebellious blonde beauty at the center of 'Surf the Musical'."
The pair can be seen on stage together in the production clips montage (above right), where he strums a guitar while actress Lauren Zakrin sings the ballad "In My Room." Earlier in the reel, Carolan can be heard shouting "everybody!" during the cast's romp through the Beach Boys' '65 hit "California Girls."
Carolan's cast bio announces he's "stoked to be back on the beach! Originally from Orange County, where he studied at CSUF." During his collegiate years, Carolan was part of the student cast of three Front & Center shows at the Honda Center, where he shared the stage with the Doobie Brothers, Chicago and Gladys Knight.
In a Q&A last year with "Stage Scene LA," he recalled: "Our senior B.F.A. class was the first to have a showcase in New York in front of casting directors, agents, etc. We were stoked. A casting director from 'Mamma Mia!' was there, and I was offered a role in their Vegas production. It was a gradual start heading to the East Coast. Then, after the show closed I moved to NYC right away."
Carolan went on to perform on Broadway in the revival of "Hair," then joined the national touring production, which included a stop at the Segerstrom Center for the Arts. Back in the OC, he was among cast members who signed autographs one weekend at South Coast Plaza, where the troupe staged a free performance. His other professional credits include "The Who's Tommy"(Tommy) at ReVision Theatre.
Tickets to "Surf the Musical," performed eight times during the week, can be purchased online.