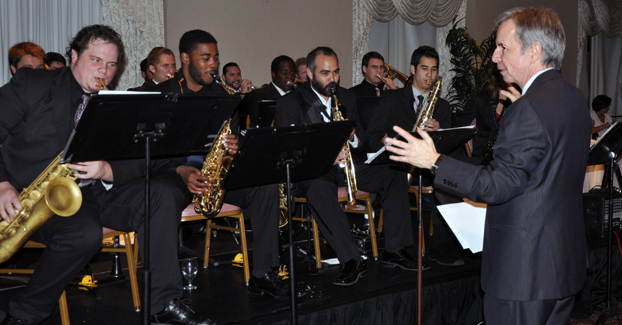 Caption: Grammy winner Bill Cunliffe, CSUF professor of music, directs the Fullerton Jazz Orchestra during the Friends of Jazz annual Mardi Gras in the Grand Ballroom of the Embassy Suites in Brea. Photo: Peggy O'Donnell Download
Mardi Gras
Theatre Department Founder Reigns With His Queen at Fundraiser
The Friends of Jazz 11th annual Mardi Gras fundraiser counted Cal State Fullerton members among attendees, performers and even its royal court.
James Young, founding chair of the university's Theatre and Dance Department, and his wife, Dottie, a retired school teacher, reigned as king and queen of the spring event held in the Grand Ballroom of the Embassy Suites Hotel in Brea, with proceeds benefitting music programs in Fullerton schools.
Attendees segued from silent and live auctions to dining and dancing to the music of the Fullerton Jazz Orchestra of CSUF, under the direction of Grammy Award-winning arranger Bill Cunliffe, professor of music.
The evening's other musical entertainment was provided by the Fullerton College New Lemon Street Stompers, as well as a troupe of fourth-grade students from Fisler Elementary School. The young musicians played recorders donated by the Friends of Jazz.
Performers in the Fullerton Jazz Orchestra included: saxophone players Loren Asmus, Jordan Ferrin, Danny Hernandez, Glen Turner and Vanessa De Vuyst; trumpet players Adam Couste, Matt Davies, Mike Jiminez, Shant Keuroghelian and Eric Lund; trombone players Anthony Fuller, Stephen Schill, Matt Smith and James Winchell; plus Chris Hon on bass, Tom Johnson on piano, Brandon Miller and Art Ramirez on drums and Ryan Navales on guitar. Vocalists Brandon Harris and Reina Rodriguez were joined by special guest vocalist Johnny Coppola.
With funds raised over the course of 11 years, the Friends of Jazz organization has donated more than $350,000 in grants, stipends and scholarships to musicians in Fullerton schools.