$5 Million Gift Is Cal State Fullerton's
Second Largest
Benefactor Is the Estate of a Former Student Body President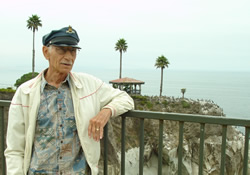 Joseph A.W. Clayes III
The estate of one of Cal State Fullerton's first student leaders has awarded $5 million to the College of the Arts for the naming of the university's Performing Arts Center.
Trustees of the Joseph A.W. Clayes III Charitable Trust made the donation — the second largest in the university's history.
Today, the California State University Board of Trustees approved the facility's new name: Joseph A.W. Clayes III Performing Arts Center.
"We are grateful to Trulette Clayes and Brendan Holmes for their outstanding work on behalf of the Clayes Charitable Trust," said Cal State Fullerton President Milton A. Gordon. "This gift provides us with the opportunity to endow scholarships, create programming and develop a presence for the center. We look forward to visiting artists and master classes, among other offerings, to enhance the education of our students and increase programming for the community."
Special distinction will be paid to the trust and its gift at the Sept. 27 Legends & Legacies event, which recognizes the university's major donors.
Clayes was a member of the very first incoming class of students in the fall of 1959, when classes were held at Sunny Hills High. He served on the campus's first student council and later as associated student body president, representing about 1,500 students, on the new campus then known as Orange County State College. He was active in a variety of student groups, including the Oracles service club and the Society for the Advancement of Management.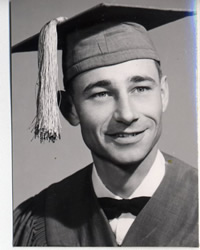 Joseph A.W. Clayes III in cap and gown for his graduation in 1961
Clayes was treasurer before being elected the third student body president and personally signed the loan guarantee to enable Cal State Fullerton's first fraternity, Sigma Phi Omega, to have a home adjacent to the campus.
The 1961 graduate in social sciences went on to become a successful financial and real estate investor and avocado rancher. Clayes owned property in Laguna Beach and had been residing in Palm Springs at the time of his death in 2007, at the age of 75.
"Mr. Clayes was truly an extraordinary individual," said CSU Chancellor Charles B. Reed. "He will leave a permanent legacy for generations to come."
His niece Trulette M. Clayes, controller for the Museum of Contemporary Art San Diego, and Clayes' longtime friend Brendan Holmes are co-trustees of the Joseph A.W. Clayes III Charitable Trust. They toured the Performing Arts Center and pronounced it a match for the man.
"As a lifelong lover and patron of the arts, it is a fitting tribute to him, and I think he would be deeply touched," said Holmes. "He would be pleased at the prospect of sponsoring students through scholarships."
"I believe that this is a very important part of our lives and feel honored to be involved with this gift," said Clayes' niece Trulette, who views the gift as "an incentive for people of all ages to pursue a higher education.He would be honored and pleased to see his name on this beautiful facility."
More than 200 donors have made contributions totaling about $5.7 million in support of the $48.5 million building, which debuted in January 2006. It added 109,000 square feet of performance, rehearsal, laboratory, studio and technical space in four discipline-specific areas for theater, dance, music and musical theater.
"We are deeply indebted to the Clayes Charitable Trust for this visionary naming gift, which underscores the center's importance to this region," said Jerry Samuelson, dean of the College of the Arts.
As a student, Clayes worked with art professor Naomi Dietz Knox to develop the first campus art shows. He also served as the first business manager for the student newspaper, the Titan Times, and sold tickets for athletic events.
In addition, Clayes had the opportunity to team teach an investment class with Theodore Smith, professor of economics and marketing, who also chaired the Division of Business and Economics. Clayes got an early start on his career as an investor during his collegiate years.
His estate "will make it possible for hundreds and hundreds of students to enjoy the arts," noted Reed.
The gift's beginnings can be traced to emeritus professor James D. (Jim) Young, founding chair of the campus's Theatre and Dance Department. He met with the Clayes trustees and encouraged them to consider the gift. Clayes and Young had reconnected in 2004, at a reunion of early '60s-era graduates and professors.
Young remembers the young man he used to sip coffee with at an outdoor gathering spot, where students and faculty members became friends. "I wasn't much older than Joe; he was a veteran, like so many of our students at the time… He was interested in the theater, in opera and music, and he studied piano." Clayes would become a collector of pianos and other musical instruments.
Clayes was born at St. Joseph's Hospital in Orange and raised in Anaheim, where his grandfather, Joseph A. Clayes, was principal of Anaheim Union High School from 1913-41. Clayes Field at what is now Anaheim High is named for him.
Grandson Clayes graduated from Anaheim Union High and served in the Navy from 1952-56 before enrolling at Fullerton College. He transferred to Orange County State College, where his father's former college roommate, William B. Langsdorf, had been named the founding president.
Additional photos are available at fullerton.edu/newsphotos.