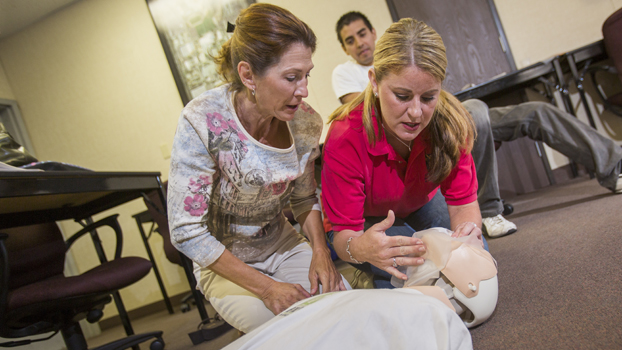 Caption: Cari Elofson of Environmental Health and Safety, right, gives instruction in how to perform CPR to Kathleen Davis of Geological Sciences during a training program offered earlier this week. Photo: Matt Gush Download
Keeping Campus Safe
Environmental Health and Safety's Cari Elofson Honored
When her mother injured her back and became disabled, safety training and injury prevention became personal for Cari Elofson of Environmental Health and Safety.
"You don't know how important safety training is until something happens that affects you," said Elofson, who has been leading safety training on campus since January 2011.
Her efforts in promoting safety, as well as teaching and developing online safety training programs, earned her the 2011-12 Safety Professional of the Year Award from the American Society of Safety Engineers, Orange County Chapter.
Elofson has more than 20 years of experience in the occupational, environmental, health and safety industry, including operating her own consulting firm for 14 years. About the time her mother was injured, her clients started asking her about offering safety training. The demand for training continued to grow.
The member of the CSUF Office of Environmental Health and Safety, oversees a training program that includes 10-15 instructor-led workshops per month, as well as more than 100 online programs that range from defensive driving and campus safety to more specialized programs in autoclave and biological hazards safety. She has just launched online versions of laboratory safety and radiation safety courses.
"I'm looking forward to standardizing more of the training and making the opportunities and range of programs more visible so that others in the campus community will take advantage of the learning opportunities.
"Our goal is to update programs to keep them fresh," she notes. "Training and preventing a situation from developing are often key to avoiding injury."
Programs are offered to employees, faculty, students and departments, and sometimes even to community members. Programs such as CPR and first aid have been offered for years and if spaces are available, opened to campus family members and others in the community.
Elofson also has been reaching out to faculty members and students more directly in the development and formation of an American Society of Safety Engineers student chapter on campus. John D. Breskey, assistant professor of health science, is the chapter's faculty adviser. In less than one year, students interested in pursuing environmental, health and safety related fields of study have received $2,500 in scholarships from ASSE, Orange County, Elofson said.
"Cari truly embodies a committed H&S professional," said Breskey, who noted Elofson's dedication to safety and students.
The Office of Environmental Health and Safety
The safety training program is but one part of the services offered through the Office of Environmental Health and Safety, a part of Human Resources.
"We are charged with the integration of safety into the university community and its programs," said Curtis P. Plotkin, interim EH&S director and an occupational health and safety professional with more than 20 years of experience.
In additional to the training that is provided to faculty, staff and students while working on campus, the office also is charged providing safety instruction for students and faculty while off campus — during academic field trips, studying abroad and working in internship situations. The EH&S team also works with a cadre of department safety coordinators who bring issues of concern to the proper attention.
Members of the EH&S team are charged with overseeing occupational safety, biosafety, chemical safety and a full range of environmental compliance issues such as air quality, storm water and sanitary sewer disposal. Asbestos management, lead, and hazardous waste disposal also are compliance issues. Hazardous waste disposal — including chemicals used in laboratory research — is a big component to their services. Recent changes is disposal processing has saved the campus nearly $150,000 annually.
"The main responsibilities of the Environmental Health and Safety Office is to provide for a safe campus environment for faculty, staff, students, and visitors," said Plotkin. "Over the past 20 years, however, our role has expanded to include the protection of our campus environment and that of the environment we all live in. By following environmental laws, keeping lab and building system pollutants to a minimum, and keeping hazardous materials out of our water systems helps us all."
In addition, the office works with the state fire marshal during inspections of the campus and offer ergonomic consultations. When accidents do occur on campus, EH&S staff investigate what occurred and provide departments consultation on minimizing accidents.
A member of the office staff even tests to make sure that food sold and served on campus — whether in the food court and other dining facilities or by a student organization — has been properly handled and prepared.
"We have an excellent team of professionals working to improve campus safety," said Plotkin. "I'm very honored to work with every one of them."
For more information about the department, its programs and training, go to the department website.
Aug. 15, 2012