Cover Story
Psychologist Featured in National Geographic Magazine
Nancy L. Segal, psychology professor and author of "Someone Else's Twin: The True Story of Babies Switched at Birth" (2011, Prometheus Books), is featured in this month's National Geographic Magazine.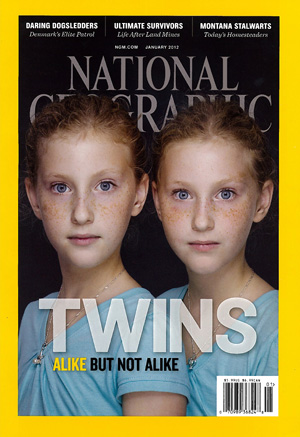 Caption: The cover story of the January issue of National Geographic explores the similarities and differences of identical twins.
A question-and-answer feature with the twins expert highlights Segal's decades-long research on the rarity and behavior of twins, parenting challenges, issues twins face and twins raised apart. She also is quoted in the cover story about what identical twins reveal about humans in general.
Segal, director and founder of Cal State Fullerton's Twin Studies Center, has been researching twins for decades. Her expertise has been sought by media worldwide, and she's been called as an expert witness in court cases. Her commentary has appeared in hundreds of publications and academic journals; she has appeared on national television news programs, as well as "The Martha Stewart Show."
She is completing her fourth book, "Born Together — Reared Apart: The Landmark Minnesota Twin Study," which is slated for release by Harvard University Press in May.
"Twin research generates many interesting and provocative ways to think about behavior," Segal said. "We are learning that genetic influence is far more pervasive than previously thought. We are also seeing that the environment (both before and after birth) can lead to differences between identical twins in some traits. Learning how the environment works has implications for understanding human development more generally."
"Someone Else's Twin" recently was reviewed by the Wall Street Journal, which called the book a "fascinating account" of Spanish twins who were switched at birth and the family and legal entanglements that followed nearly three decades later when they were reunited.
Segal earned a bachelor's degree in psychology and English literature from Boston University (1973) and master's degree (1974) and doctorate (1982) in social sciences and behavioral sciences from the University of Chicago. She received Cal State Fullerton's Outstanding Professor Award, the university's highest faculty honor, in 2004. Her other awards include the 2005 James Shields Award for Lifetime Contributions to Twin Research from the Behavior Genetics Association and International Society for Twin Studies and the 2006 "International Making a Difference" Award from Multiple Births Canada.
Jan. 23, 2012