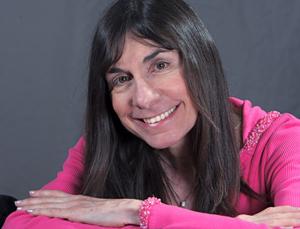 Caption: Nancy Segal's latest book, "Someone Else's Twin," focuses on the case of twins switched at birth in the Canary Islands. Photo by Karen TapiaDownload Photo
Switched at Birth
Psychology Professor's Latest Book Focuses on True Story of Spanish Twins Raised Apart
NEARLY FOUR decades ago, identical twin girls were born in an overcrowded hospital in Spain's Canary Islands. One of the twins was unintentionally switched with another infant.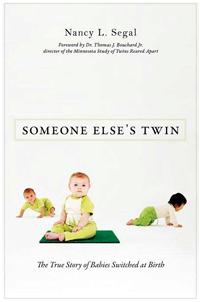 Because of that error, the twins grew up separately in different families some 50 miles apart. As adults, a friend brought the strangers together because of their striking resemblance, and DNA tests later confirmed their matching genetic code.
The story of the Spanish twins is the focus of Nancy L. Segal's latest book, "Someone Else's Twin: The True Story of Babies Switched at Birth" (Prometheus Books).
While misplacements of newborns are rare, the people who discover they are raising the wrong babies are devastated, said Segal, professor of psychology and director of the university's Twin Studies Center.
"We only know about the cases that make news," she said. "There probably are some that get detected but go unreported publicly and others that we never know about."
From the cases she has learned about, those children who find out they aren't who they thought they were "find their life histories disintegrate in a matter of minutes," she said. "It's very traumatic for them and their families."
Many switched-at-birth babies and their parents would rather not know the truth "because they're living happy lives," Segal said. "But, it's better to know the truth so you can anticipate health issues or other genetic-related problems and be better prepared."
The switched Canary Islands baby growing up without her natural parents got Leukemia at age 16 and no one in her family could donate bone marrow because they were not a match, Segal tells in her book.
"Her identical twin would have been a match and she could have benefited, but she didn't even know she had an identical twin," said Segal, a twin herself.
The lesson to be learned from the Canary Islands twins' story and babies switched at birth everywhere is "people need to pay greater attention in hospitals and know where their babies are at all times," Segal said. "Parents have to be proactive."
In the forward of "Someone Else's Twin," Thomas J. Bouchard Jr., director of the Minnesota Study of Twins Reared Apart, writes that the story "has relevance to each and every one of us, as each and every one of us could have been Someone Else's Twin."
And, from Segal's afterward:
"Some people will never suspect that they were raised by the wrong mother and father. Others may always wonder why they looked and acted differently than their parents and siblings, never seeming to fit into the family culture. How many among them would want to know the truth? I have always maintained that the truth is best because it lets the past become clearer and the future better controlled. … There are few things as important, or as fragile, as knowing who we are and to whom we belong."
July 13, 2011