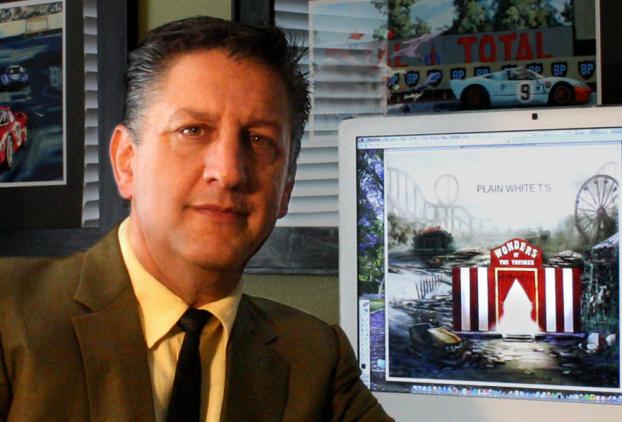 Caption: Cliff Cramp at his easel: a computer screen. The image is the completed cover of the Plain White T's album "Wonders of the Younger."
Creating Musical Art
Artist Creates Cover to Represent Band's Latest Album
If a picture is worth a thousand words, an illustration used for the cover of an album surely must say that and more. 
And musicians, as artists themselves, know that the artwork must represent the band as well as the music.
So when members of the Plain White T's were creating their latest album, they spent time thinking of what they wanted to say and how they wanted it recreated on the CD cover. They even drafted a rough sketch while on a plane flight that their record label, Hollywood Records, used when contacting Cliff Cramp, professor of art, about bringing the band's vision to life. 
The result will be seen when the Grammy Award-nominated band releases its latest album, "Wonders of the Younger," Dec. 8. Not only is Cramp's work on the cover, it is used for the album booklet boxed with the CD. 
"The communication was excellent between all those involved," said Cramp, a Cal State Fullerton alumnus with a B.F.A. and M.F.A. in illustration. "That, and the theme, made this a really fun project to work on."
Cramp, who joined Cal State Fullerton as a tenure-track faculty member in 2000, has created illustrations, background painting for animation, storyboard and visual development art for feature film and board games, as well as CD/DVD art for a wide range of entertainment companies, including Nickelodeon, DIC Entertainment, Ken Stack Studio, Simon & Schuster and Walt Disney Entertainment. His art also has been exhibited throughout the Southland. He teaches illustration in traditional and digital media.
Nov. 18, 2010