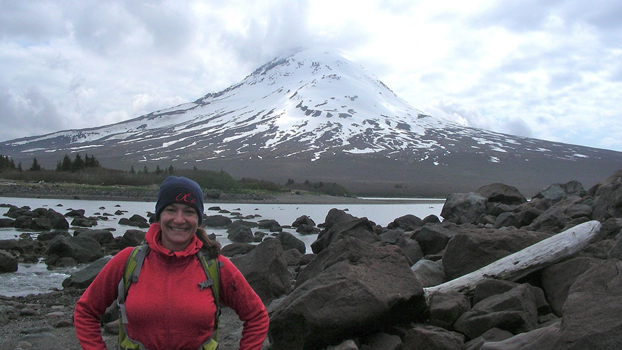 Caption: Graduate student Michelle Vitale at Alaska's Mt. St. Augustine volcano where she conducted research with Brandon Browne, associate professor of geological sciences.Download Photo
Geoscience Focus
Graduate Student Recognized With National Teaching Award
Geology graduate student Michelle Vitale was recently awarded the National Association of Geoscience Teachers' Outstanding Teaching Assistant Award. She is one of 13 national recipients.
"It's an honor to be nominated for this award by the Department of Geological Sciences. It means a great deal to me to be recognized as a teaching scientist," said Vitale who hopes to teach college-level geology after completing her graduate studies this fall.
Vitale has been a teacher's assistant for lower- and upper-division geology courses on campus and recently returned from teaching at the university's summer field geology camp in southwest Montana.
"Field camp is a capstone course for all geologists, so the opportunity to discuss geological problems in the field with essentially my peers was one of the best teaching experiences I have ever had," said Vitale, who participated in the geology camp as a student in 2010.
"Michelle is a passionate and dedicated teacher who provides her students with an interactive, challenging and comprehensive learning experience," said Brandon Browne, associate professor of geological sciences. "I am thrilled that she is the recipient of this award and very proud of her accomplishments as a teacher and researcher."
The Newport Beach resident is working with Browne on his research focusing on improving the early warning system for volcanic eruptions in the United States. As part of her studies into how volcanic eruptions are triggered, Vitale conducted fieldwork at Alaska's Mt. St. Augustine volcano last summer.
Most volcanoes are characterized by a plumbing system that includes a vent at the surface from where magma, or molten, rock erupts; a reservoir, or chamber, five to 10 miles below the surface where magma resides; and a narrow pipe that connects the vent to the reservoir called a conduit, Browne explained. For much of a volcano's life, the magma remains in the reservoir, where it stagnates as it cools and crystallizes, he said.
Every once in a while, Browne noted, a new batch of hot and gas-rich magma from the Earth's mantle forcibly intrudes the stagnant magma reservoir. This intrusion of hot, gas-rich magma mixes with the stagnant magma, exciting and re-mobilizing it, so that it rises up through the conduit to the surface and erupts.
"Michelle's research looks at this process of mixing in terms of the time-scale of eruption triggering — such as how much time passes between intrusion of new magma and eruption — and the resulting textures of the rocks," Browne said. "Both of these aspects are very important for understanding the mixing/triggering process, which aids eruption forecasting and monitoring efforts."
Aug. 22, 2011