Volcano Warning System Stimulus
Volcanologist Brandon Browne Gets ARRA Funds to Work with USGS
Brandon Browne, assistant professor of geological sciences at Cal State Fullerton, will be returning to Alaska's Mt. St. Augustine volcano next year, thanks to a $149,991 grant from the U.S. Geological Survey. He'll be going as part of a $7 million USGS effort to improve the early warning system for volcanic eruptions on U.S. soil.
Cal State Fullerton is one of 15 universities and state agencies receiving the funding, which was supplied through the American Recovery and Reinvestment Act.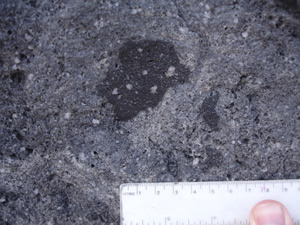 An up-close view of the (now cooled) newer and hotter magma—the dark area—that intruded into the cooler and stagnant magma beneath Augustine prior to, and possibly during, the four-month-long eruption in 2006.
ARRA funds will be used to modernize existing volcano monitoring networks, model hazards of high-threat volcanos for at-risk populations and analyze data from recent eruptions, according to the USGS.
Browne will be returning to Mt. St. Augustine, a volcanic island near the mouth of Alaska's Cook Inlet, where he has previously done groundbreaking research since his first visit in 2002. St. Augustine, one of the many volcanoes surrounding the Pacific Ocean in the so-called Ring of Fire, erupted violently in 1964, 1976, 1986 and 2006. Browne made a total of four trips to the island in the last seven years.
When news of the grant was announced Dec. 9, John Eichelberger, USGS volcano hazard program coordinator, told United Press International: "The style and composition of Augustine eruptions are typical of many Alaska and other circum-Pacific volcanoes, so his results will be broadly applicable.
"As population and development expand near hazardous volcanoes, and air traffic over volcanic regions grows, risks from volcanic activity are increasing," Eichelberger said. "The modernization of our volcano monitoring networks will deliver more reliable, robust information, supplying emergency responders with critical information they can use to save lives and reduce damage, while creating or preserving jobs in equipment manufacturing, geophysical services, aviation services, academia — including student researchers — and state agencies."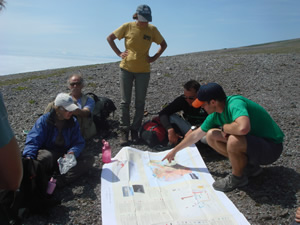 Brandon Browne, right, discusses the geologic history of Augustine Volcano with other scientists during field work in June, 2009.
In an e-mail, Michelle Coombs of the Alaska Volcano Observatory, which is supported by the Department of the Interior's USGS, the University of Alaska and the Alaska Division of Geological and Geophysical Surveys, noted the breakthrough by Browne and his graduate student at the time, Arron Steiner, when the two funded a research trip in 2008 to Augustine out of their own pockets.
"Following the 2006 eruption of Augustine, a group of scientists from AVO went to study the new deposits and found that the eruption had been preceded by mixing of two magmas, a new one from great depth and one that had been in the shallow crust for awhile," said Coombs. "Our model of magmatic processes was tied in to geophysical signals recorded during the eruption, that is, volcanic earthquakes and the expansion and contraction of the volcano as recorded by high-precision global positioning satellites. We found evidence of mixing, but we didn't identify any samples.
"Brandon and his student Arron Steiner went out in the field later and did find samples of this intruding magma. This was a great discovery," she said. "By further characterizing this intruding basaltic magma, Brandon will be able to tell more accurately where this magma came from and, more importantly, close in on the timing between when it interacted with the shallow magmas and when Augustine erupted."
Browne's task over the 20 months covered by the grant is divided into two main phases. He and his team of a graduate student, two undergraduate students, a junior high or high school student and a K-12 science teacher from the local community will go to Augustine with Coombs in July 2010 to collect samples of the newer, hotter magma ejected in phases during the four-month-long 2006 eruption. The samples from each phase will be examined chemically to determine how the intruding magma changed over the period of the eruption.
The goal is to determine whether the intrusion occurred all at once or gradually over the four-month eruption. The chemical analysis will be done with electron microprobes at UCLA and ion microprobes jointly operated by Stanford University and the USGS.
The team's data will then be compared to the electronic data collected at the time by the USGS so they will know how far in advance the warnings of eruption began and what to look for.
On Browne's team so far are graduate student Michelle Vitale, who is pursuing her master's degree in geology, and geological sciences junior Ashley Melendez. They were chosen, Browne said, for their interest in geology and knowledge of volcanology and igneous petrology, positive attitude, strong work ethic, dependability, and hiking and camping expertise, "all of which they will need for this research," Browne said. The same criteria will be used to fill the remaining positions on the team.
Responding to an e-mail query, Eichelberger said getting people out of harm's way is the primary purpose of the early warning, but pointed out that it also gives time to protect machinery, stores of oil and fuel, and to put ash-removal equipment in place.
Others receiving a share of the $7 million stimulus funds from USGS are: the universities of Utah, Washington, South Florida, Wisconsin, Alabama, Hawaii-Manoa and Alaska-Fairbanks; Boise State, Northern Arizona and Southern Methodist universities; and the Oregon Department of Geology and Mineral Industries, Wyoming State Geological Survey, Washington Department of Natural Resources and Alaska Division of Geological and Geophysical Surveys.