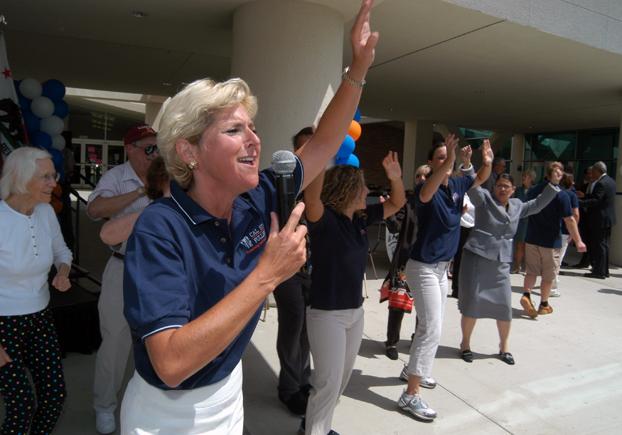 Caption: Shari McMahan leads an exercise for attendees at the 2004 celebration for the completion of the university's Kinesiology and Health Science Building expansion. Photo by Patrick O'DonnellDownload Photo
McMahan Appointed Dean
Administrator Leads College of Health and Human Development
Shari G. McMahan has been named dean of Cal State Fullerton's College of Health and Human Development.
Effective July 1, the appointment follows a national search for the successor to Roberta E. Rikli, who retired last year. McMahan, who took on the acting dean role six months ago, joined the university faculty as an associate professor of health science in 2000.
Since then, "Dr. McMahan has served in increasingly responsible academic leadership roles in the College of Health and Human Development and universitywide, while making exceptional contributions as a teacher-scholar, researcher, mentor and professional in her field," said Steven N. Murray, acting vice president for academic affairs, in his announcement of McMahan's appointment.
"Dr. McMahan has maintained a stellar record of scholarship that includes more than 40 peer-reviewed publications and more than $1 million in external grants, most of which have been in support of her research, which utilizes a social ecological approach in the study of healthy lifestyles and prevention of obesity," Murray added.
As dean, McMahan oversees the departments of Child and Adolescent Studies, Counseling, Health Science, Human Services, Kinesiology and Social Work, as well as the college's School of Nursing and its Military Science Program.
In addition, the college houses the university's Health Promotion Research Institute, Sport and Movement Institute and the centers for Advancement of Responsible Youth Sports, Cancer Disparities Research, Community Collaboration, Fall Prevention, Fibromyalgia Research and Education, Promotion of Healthy Lifestyles and Obesity Prevention, Sport Performance and Successful Aging, as well as the Employee Wellness Program.
The college has 135 full-time faculty members and serves more than 5,000 students majoring in 24 degree programs.
"When our community hires individuals or seeks interns in the health and human development fields, I envision they will think 'Cal State Fullerton,'" McMahan said. "We truly have exceptional programs."
She said her immediate goals as dean include:
developing a strategic plan for her college;

building/integrating information technology in teaching, research and service; and

finalizing development of the Doctor of Nursing Practice Program and begin accepting students in fall 2012.
As for her long-term goals, McMahan plans:
to build a one-stop "Advising Center" for all the health fields;

foster alumni relations;

provide leadership in the community; and

continue development of innovative programs that meet community needs.
June 21, 2011