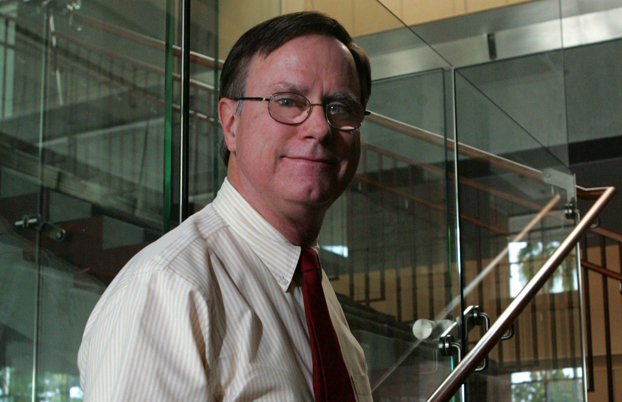 Caption: John Koegel's "Music in German Immigrant Theater: New York City, 1840-1940" is reaping national acclaim and awards — a testament to the music professor's 24 years of research. In the process of writing the book, "I recognized two main things: my own heritage as a German American and my great interest in the American musical theater." Photos by Karen Tapia Download Photo
Scholar's Book Gains Wide Acclaim
Landmark Work on German American Theater Was 24 Years in the Making
It took more than two decades of research, an effort that has earned high praise for music professor John Koegel, whose book on German immigrant theater in the United States has taken book-of-the-year honors twice — this year and last — in the two years since its publication.
In the 19th century, more Germans lived in New York than in any other city in the world, except Berlin and Vienna, and German-language musical plays and light operas filled a significant niche in the lives of these immigrants and their families. John Koegel's "Music in German Immigrant Theater: New York City, 1840-1940" tells, for the first time, the engrossing story of this previously unexplored aspect of the history of American musical theater.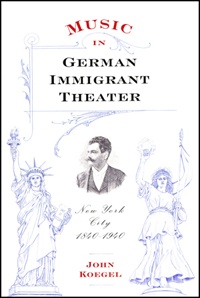 Caption: Published by the University of Rochester Press, 2009.
Nearly 24 years in the making, "'Music in German Immigrant Theater' represents an effort of archival research that can only be imagined," wrote Peter Conolly-Smith, assistant professor of history at the City University of New York, Queens College campus, in the foreword.Koegel also draws attention to German-American musical comedies by popular theater impresario Adolf Philipp. As their titles suggest — "Der Corner Grocer aus der Avenue A" and "Der Pawnbroker von der Eastside" — these musicals related directly to the daily experiences of the immigrant population.
"The supporting cast of hundreds, even thousands, makes this book a great addition to the history of American musical theater. Koegel's palette is rich, his canvas, huge: the reader will see both the forest and its trees."
Since publication, that assessment has been echoed by his colleagues in the field.
This spring, the Society for American Music awarded Koegel the prestigious Irving Lowens Book Award for his "outstanding contribution to American music studies." He also was named the 2009 Gold Medalist for the ForeWord Reviews Book of the Year Award in the music category. In addition, he was a finalist for the Theater Library Association's 2010 George Freedley Award. The book also was included in the 2010 University Press Books Selected for Public and Secondary School Libraries by the Association of American University Presses.
The citation from the Lowens Book Award — his most recent honor — explains that "covering an entire century is an amazing feat for any historian, but Koegel does so with extraordinary prowess. Based on an astounding depth of archival research, and with meticulous attention to detail, the book provides a much-needed corrective to stereotypical views of the role of German Americans in our nineteenth- and early twentieth century musical life."
"A landmark volume that defines a field ... with a stunning assortment of drawings, photographs, and musical examples, as well as an 18-track CD that provides a variety of stage music selections (many unavailable elsewhere), Koegel's book sets a new standard in American music scholarship, and will hopefully inspire a series of new investigations into what many see as an already well-trod era in American musical history."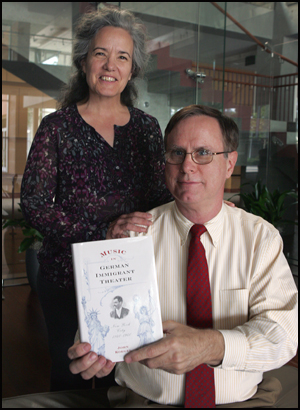 Caption: Author John Koegel recruited soprano Patricia Prunty, associate professor of music, to record songs for the book's CD — recorded in the university's Clayes Performing Arts Center, in the background. 
Among the many individuals and institutions acknowledged in the book's preface, the author expresses appreciation for the assistance of the Pollak Library's Inter-Library Loan Department in obtaining the "rare items essential to my research" and noted the translation assistance provided by the university's own Lee Gilbert, emeritus professor of German.
"I owe a huge debt of gratitude to Lee Gilbert ... for his excellent translations. This book could not have been written without his assistance, and I will always be grateful to him for his incredible generosity and experience," Koegel wrote.
The CD accompanying the book was very much a CSUF effort, recorded in the Recital Hall and Meng Concert Hall with the help of soprano and Associate Professor of Music Patricia Prunty, baritone and CSUF music alumnus Aram Barsamian (B.M.-voice '94), Associate Professor of Music Robert Istad, Lecturer Nicole Baker and Staff Pianist Grant Rohr.
The book that one reviewer has called "a stunning model of empirical research" was inspired, in part, by the author's desire to acknowledge his own ethnic heritage as a third-generation German American. Koegel writes movingly about that inspiration in this excerpt from the book's preface.
November 28, 2011