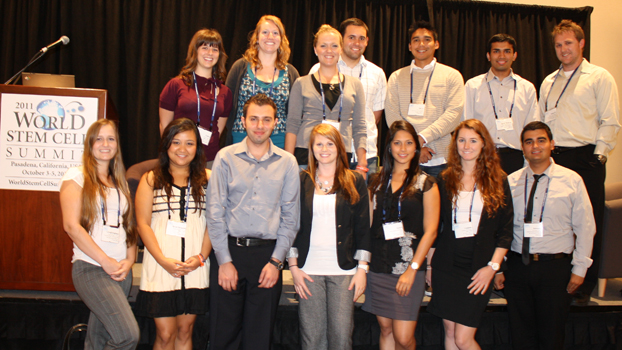 Caption: California State University students — including Fullerton's own Brian McFadden, back row, right — assemble at the dais after attending a session at the 2011 World Stem Cell Summit in Pasadena. Also pictured are Nawas Syed of CSUF, Salvador Garcia and Laughing Bear Torrez of CSU San Bernardino, and Danielle Behr, Keri Elkins, Grady Gastelum, Ian Ladran, Cayla Mason, Kayla Muth, Alen Putros, Arra Revilla, Lindsay Southgate and Katia Sularez of San Diego State. Photo courtesy of the California State University
World of Possibilities
Student Researchers Take Part in World Stem Cell Summit
Students from the Bridges to Stem Cell Research Program recently took part in the 2011 World Stem Cell Summit, thanks to the sponsorship of the California Institute for Regenerative Medicine.
"Working side-by-side with faculty and other students adds new life to my academic studies and is preparing me for a career in research," said attendee Brian McFadden. "The stem cell field is growing at such an incredible rate — I'm thankful to be part of the cutting edge in healthcare technology."
The Stem Cell Research Program is a 14-month program that focuses on training skilled stem cell researchers, thereby allowing students to benefit from the faculty expertise and lab facilities at CSU and partner universities. In addition to Cal State Fullerton, the California Institute for Regenerative Medicine has funded 12 Bridges programs within the California State University.
The program's science focus reflects Cal State Fullerton's heightened emphasis on increasing student interest in the science, technology, engineering and mathematics, or STEM, disciplines — one of the university's initiatives.
Dec. 1, 2011