Faculty Book Exerpt
My Experience with A Confidential Source
Some stories can't be reported without them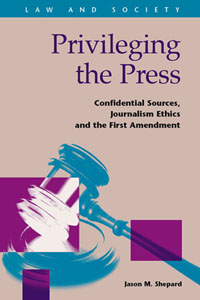 Caption: The cover of the book "Privileging the Press" released in August by LFB Scholarly Publishing LLC.
Editor's Note: Jason Shepard knows about confidential sources. As a reporter for several newspapers prior to his appointment at Cal State Fullerton, he wrote many stories based on information obtained from confidential sources. Here is an excerpt about one case taken from his book "Privileging the Press."
"But, perhaps my most important pieces of reporting to stem from a confidential source came in 2008, when I reported that a murder victim called 911 as she was being attacked but, the 911 dispatcher never sent her any help.
"Brittany Zimmerman was a pre-med student at the University of Wisconsin-Madison when she walked home to her campus-area apartment around noontime after an exam. Hours later, her fiancé came home to discover her dead, having been brutally beaten and stabbed multiple times. Police worked on the theory that she was killed by a stranger, but no suspect was identified.
"Hers was the third unsolved campus-area murder within a year, and the cops were under tremendous public pressure to solve the case. Several weeks after her murder, I was provided a tip by a familiar source that Brittany had called 911 as she was being attacked and that the 911 center botched the handling of the call.
"I tried to confirm this through routine methods, including reviewing a 911 dispatch log that was routinely available to reporters. The call was not there. I also filed public-records requests for basic 911 call information, which were denied. Interviews with officials went nowhere, and the 911 center director dodged all my queries.
"I went back to my original source, pieced a few things together from other sources, and then presented two other police sources with a draft of my story. Those subsequent sources knew more than I did and provided some key confirming details and also corrected an error.
"The story, under the headline 'Brittany Zimmerman called 911, but no one came,' sparked immediate outrage. The police chief and the 911 center director held dueling news conferences and provided contradictory facts, while the county executive was busy defusing criticism about short staffing and mismanagement inside the 911 center. Eventually, the story and several follow-ups resulted in the resignation of the 911 center director, several lawsuits and significant budget increases to the center. None of this would have happened but for confidential sources trusting journalists."
Nov. 29, 2011