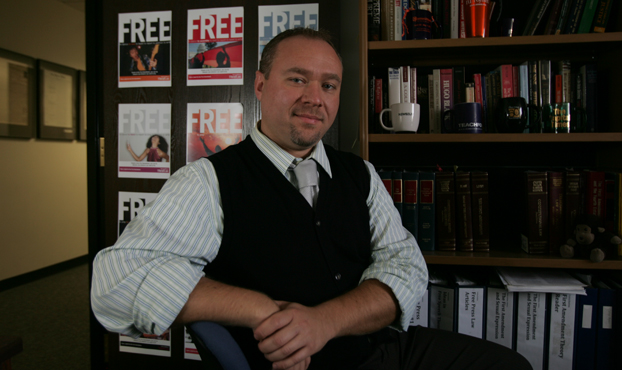 Caption: Jason Shepard, assistant professor of communications and author of "Privileging the Press: Confidential Sources, Journalism Ethics and the First Amendment." Photo by Karen Tapia Download Photo
'Privileging the Press'
Journalist Delves Into the Use of Unnamed Sources in New Book
How important are confidential sources to journalists and, by extension, the public?
Two words: Deep Throat.
Information provided by this confidential source, decades later identified as FBI Associate Director Mark Felt, helped two intrepid reporters and the Washington Post topple a presidency.
Then, there's the flip side: Judith Miller.
Several stories about weapons of mass destruction in Iraq, published in the New York Times with Miller's byline, were found to be inaccurate. Much of her information came from confidential sources, including I. Lewis "Scooter" Libby, chief of staff for Vice President Dick Cheney. In the chaos that ensued, Valerie Plame's identity as a CIA operative was disclosed, putting other operatives and sources' lives in danger. Libby was later convicted of lying to prosecutors about his conversations with Miller and other journalists.
"That's what's fascinating about confidential sources," said Jason Shepard, assistant professor of communications and author of "Privileging the Press: Confidential Sources, Journalism Ethics and the First Amendment," published by LFB Scholarly Publishing. "If the information is accurate, everyone thinks it's a good idea but if it's not, well. ..."
For decades, journalists have refused to reveal the names of confidential sources because of the harm that could come to these sources, many of whom worked for the institution or people under investigation or had access to information not available to the general public or journalists.
"These sources are often very concerned about wrong-doing or a specific instance where there has been malfeasance or rules have been broken," Shepard said. "These sources often take substantial risks so journalists have to protect them."
The refusal to name sources has landed some journalists in jail, but Shepard noticed that since the early 2000s, journalists now are serving longer jail sentences and being arrested more frequently.
"What I discovered is that, often, the law is not on the side of journalists," he said. "Each case is different and the each state has shield laws — so, you have 50 versions of what's legal. California has strong protections but you may not find this in other areas of the country. So I began wondering, are journalists aware of this? And, if so, how much do they know about their rights? Are they absolute? What holds up in court and, more importantly, what might not hold up?"
This interest became the basis of Shepard's doctoral dissertation, and eventually, his book.
"Before the Judith Miller case, journalists were viewed as martyrs and hailed as heroes upon their release for protecting their sources," Shepard said. "Judy Miller served 85 days and only revealed the source when he granted her permission. Prior to that, most journalists would only serve a few days."
Over the past decade, Shepard observed that prosecutors were becoming more aggressive and judges were less sympathetic to the idea of confidential sources.
"It gets sticky," Shepard admitted. "Sometimes leaks can taint court cases, or in the Judy Miller case, harmful information is published. There are confidential sources that will talk for sensational purposes or to hurt someone's reputation. And, it gets even harder because today, it's hard to tell who is a legitimate reporter and who isn't."
Shepard cites the case of Josh Wolf, a blogger who videotaped a rally at a G8 Summit where protesters set a police car on fire. He sold the video to a television station and then the FBI came knocking at his door, wanting the tape so they could view it for evidence. Wolf claimed that because he was a member of the media, he didn't have to turn over the video. He ended up serving 168 days in jail — the longest sentence ever served by a journalist.  In the end, Wolf agreed to publish the entire video on his website and told police he didn't see anyone set the car on fire, in exchange for his release.
"Most journalists don't know the law," Shepard said. "They think it's going to protect them. In some cases, it does and in others, it doesn't."
With the arrival of Wiki leaks, there's even more of a gray area. How do you balance a journalist's right to report (especially when top secret documents are involved) with national safety? Or, when it would compromise sensitive negotiations?
"The whole area of confidential sources is going to have to be studied far more carefully with the advent of citizen journalists, internet access, hackers and others," he said. "There is a lot of good journalism that depends on confidential sources but, how far should journalists have to go to protect these sources? And, should you promise to protect them up to a certain point? And, what is that point?
"It's going to be an interesting challenge for journalists as we sort through this."
An excerpt from Shepard's book, "Privileging the Press: Confidential Sources, Journalism Ethics and the First Amendment," is available here.
Nov. 28, 2011