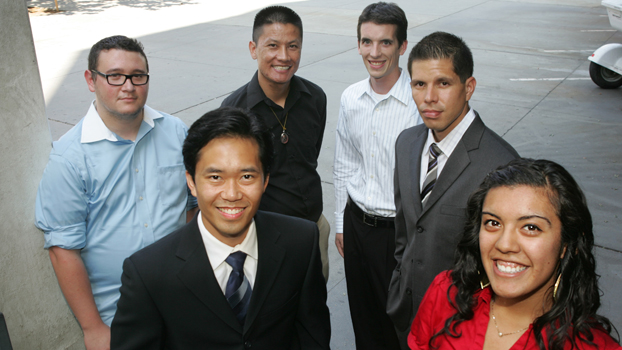 Caption: This year's class of Sally Casanova California Pre-Doctoral Scholars from Cal State Fullerton are, from left, Keith Kottenbach, Jonathan Lee, Cha Moua, Joel Johnson, Alfonso Esparza and Stephanie Santiago-Fuentes. Photo By Karen TapiaDownload Photo
CSUF Students Named Pre-Doctoral Scholars
Statewide Program Designed to Encourage Careers in Higher Education
Six graduate students from Cal State Fullerton have been selected as Sally Casanova California Pre-Doctoral Scholars by the California State University. They are among 67 such scholars named statewide.
Cal State Fullerton honorees and their faculty advisers are:
Alfonso Esparza of Riverside, public administration-urban management
Justin A. Tucker, assistant professor of political science
Joel Johnson of Fullerton, psychology
Jennifer Trevitt, associate professor of psychology
Keith Kottenbach of Calabasas, American studies
Jessica R. Stern, assistant professor of history
Jonathan Lee of Placentia, economics
Andrew M. Gill, professor of economics
Cha Moua of Fullerton, anthropology
Peter J. Fashing, assistant professor of anthropology
Stephanie Santiago-Fuentes of Buena Park, sociology
Roberta M. Espinoza, assistant professor of sociology
Now in its 21st year, the pre-doctoral program is designed to increase the pool of university faculty members by supporting the doctoral aspiration of individuals who are current upper-division or graduate students in the California State University. The awards are named for the late Sally Casanova, who worked with colleagues in the CSU Chancellor's Office and on various campuses to create the program in 1989.
Scholars are exposed to opportunities to explore and prepare to succeed in doctoral programs by working with CSU and University of California faculty members as part of the program.
Each scholar receives $3,000 to underwrite such activities as visits to doctoral-granting institutions to explore opportunities for doctoral study, travel to national symposiums or professional meetings in their field, and other related activities, such as doctoral applications and entrance examinations, purchase of reference books and software.
In addition, each scholar will take part in a summer research internship program at a doctoral-granting institution to receive exposure to the world of research in their chosen field.
For more information about the California Pre-Doctoral Scholars program, go to the CSU website.
# # #
Media Contact:
Pamela McLaren, Public Affairs, 657-278-4852 or pmclaren@fullerton.edu
Sept. 19, 2011